We are really excited to announced today that we have listed our 2.5millionth antibody, cementing our position as the world's biggest antibody search engine.
The 2.5 millionth antibody was [61743] Tet3 antibody (mAb) which is supplied by Active Motif. Active Motif is an international company with offices in Europe, Japan, China and the United States, and focuses on epigenetics and gene regulation research.
Our founder, Dr Andrew Chalmers, said: "CiteAb has grown quickly since its launch in spring 2013, and we are the biggest antibody search engine in the world.
"However, what I feel is even more important is that we still maintain our commitment to providing a fully impartial service – our search results are based only on academic citations, meaning researchers can be sure that no supplier can pay to have their antibodies listed higher."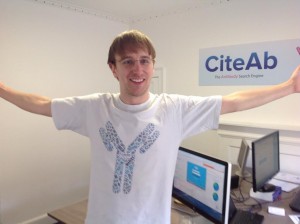 Here at CiteAb we now give researchers access to antibodies from 123 companies worldwide, including large multinationals, small specialist providers and not for profit academic groups. The 2.5 million antibodies we list on CiteAb are rated by over 677,000 citations, from a database of over 1m publications.
CiteAb was launched in 2012 by University of Bath researcher Dr Andrew Chalmers, in collaboration with a web software development company Storm Consultancy. CiteAb was Andrew's response to a need among the research community for a fully independent antibody rating service.
Andrew said: "In my own lab we'd spend a lot of time and money in finding the right antibodies, those that would work as the marketing materials from suppliers claimed they would. It occurred to me that there must be a better way for researchers to search antibodies.
"CiteAb grew as an idea and the objective from the start has been to make it easier for researchers to do their work. We keep the needs of researchers at the forefront, but also work closely with suppliers to ensure our listings are always up to date. This results in a unique platform that researchers can trust."
To date we have attracted month on month visitor growth since we launched back in March 2013, demonstrating the value of CiteAb as a resource to the international research community.
Andrew added: "We are always innovating and are keen to hear from CiteAb's users with any ideas they might have for features they'd like to see us introduce in the future. Either email us, comment below or reach us through, Twitter at @CiteAb, on LinkedIn, and on Facebook."