A few weeks ago our Founder Andrew Chalmers, and product manager Alicia Cooper, jetted off from Bath to Chicago to take part in the American Association for Cancer Research's 2018 conference.
Today we catch up with Alicia to hear all about it, and what she made of her first overseas event with CiteAb.
Hi Alicia – this was your first overseas trip with CiteAb, what did you think of the experience?
Chicago is a really beautiful place so it was amazing to get the opportunity to visit. Despite the airline losing my bag on the first day, and the very random 'spring' weather (ranging from sun, to rain, to snow!) I had a great time and can't wait for the next conference with the team.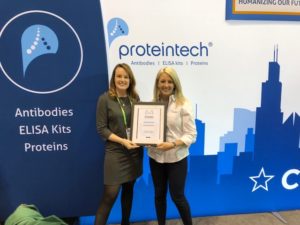 What was the highlight of attending AACR 2018 for you?
The event was a fantastic opportunity for me to meet in person many of the reagent suppliers I speak to by email or phone. Overall we met up with around 20 different companies.
A fantastic part of us attending the conference was to have the chance to present this years' CiteAb Awards Winners with their certificates, and this allowed me to meet a lot of people who I'd previously only ever e-mailed.
It also allowed us to chat to suppliers that we've never had contact with before, like AdooQ and Selleck Chemicals, so it was really fascinating to learn more about their companies and potential ways we can work together.
What was one thing that surprised you about the event?
I think I was mostly surprised with the sheer size of the event, and how many different types of suppliers attend that all fall under the cancer research bracket – it did mean we got lost a couple of times because there were so many booths to navigate through, but it was an exhilarating atmosphere!
So do you have the travel bug now? Where are you hoping to visit next?
We're planning on attending the Pivotal Links event in Oxford this June, so that is a little closer to home but still one I'm looking forward to. And a couple of the product managers from CiteAb will also be attending SfN 2018 in San Diego in November along with Andrew. As for me, I'm hoping to come back to AACR next year when it's going to be in Atlanta!
Did you go to AACR this year? Let us know what you thought of the event in the comments below!
– Rhys and the CiteAb team