In our ongoing quest to learn more about open access publishing, this week we've been chatting to Peter Binfield, Co-Founder of open access journal PeerJ, about innovation in academic publishing.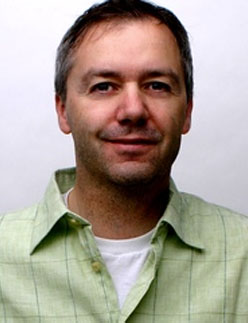 Peter, can you tell us a bit of background about PeerJ and what you set out to achieve?

When we started PeerJ we set out to be innovative. We wanted to try to do things in a different way and so, among other things, we have developed a unique business model for Open Access. Jason Hoyt, the PeerJ co-founder, was particularly driven by the need to keep costs down, he felt academic publishing was too expensive and wanted to strip as much of the cost out of the process for authors as possible.
How does the PeerJ business model work?
PeerJ offers individuals a lifetime membership for a one off fee of as little as $99 through to a maximum of $299. The catch is that every author on a paper has to become a member – however once an author has joined they can publish for free in the future.
At PeerJ we cut the costs of using staff editors, we use the cloud instead of physical infrastructure and we have no costly legacy systems. We also cut out a lot of the unrelated products which other open access companies might have, so author fees only go towards author's publications and don't have to cross subsidize other parts of the organization for example.
How do you establish the prestige of a new journal?
This is about prestige but it also deals with credibility of course. One of the main things we did was to recruit an Editorial Board of 800 world class academics, including five nobel prize winners; the Presidents of International Academic Societies; heads of department in places such as at Harvard or Stanford and so on. Their prestige reflects on the journal and helps to attract top level authors. We also received fantastic coverage in Nature, Science and the Chronicle of Higher Education which firmly positioned us as a prestigious and credible new journal.
You use the line 'Academic publishing is evolving' on your site – where do you see the future for the sector?
We're starting to see new business models appearing in the sector, and the functionality of open access journals is evolving. We're seeing a new way of thinking about research publication, with a shift from subscriptions to various open access models. It will only be a small number of years until we see a wholesale move to open access publishing, with all the evolution of business practices that this change will entail.
What is your approach to the peer review process?
We're trying to introduce improvements in every aspect of the peer review process. There is a real bottleneck caused by finding appropriate reviewers and then having them submit high quality reports in a timely manner. We're working on ideas for finding and incentivising reviewers and for making the workflow more efficient.
You mention a core belief for the PeerJ team is to 'keep innovating' – what innovations are next?
In April we launched PeerJ PrePrints, an innovative preprint server which is a great place to experiment with new features. We're offering versioning and comments, feedback and Q&As in this space, and there is the probability that successful features here will also be introduced in the journal. We're also looking to do more with the submission process, giving authors more options and tools to write straight to an XML environment for example. We want to create a real end-to-end tool that makes the overall publication process more pleasant and efficient.
Tell us a bit more about PeerJ PrePrints
A preprint server is basically a location for un-peer-reviewed drafts of scholarly articles (the most famous being the arXiv in the physical sciences). Other publishers have tried to introduce preprints into the biological and medical field but have failed. However, we feel that there has been enough change in the sector, and there is enough desire from the marketplace, to mean that now is the right time for a preprint culture to establish itself in this field. So far, in addition to the 'normal' preprint submissions you'd expect, we've also seen things like graduate theses, opinion pieces, negative results etc being submitted. People are already using the service to get feedback on their work and iterate it.
PeerJ only launched last autumn. How long did it take to set up?
We built the whole of the PeerJ software ecosystem ourselves from scratch. This is practically unheard of in academic publishing but it was entirely possible and the big bonus is that we get a completely custom fit. We can now continue to control and develop the platform and don't have to wait for new features to be added. One example – our team built the site to give control to our authors – most journals require authors to have three or four passwords for different parts of the submission process. We only have one system to log in to and use, so it is really easy for authors to navigate.
In the past, both Jason and I have been involved in big organizations and gained a lot of experience in the kinds of things that PeerJ has now chosen to build from scratch, and so we felt comfortable with handling everything in-house. We started discussing PeerJ in January 2012, announced it to the world in June 2012, started taking first PeerJ submissions in December 2012 and published our first articles in February 2013. PeerJ PrePrints then launched in April 2013.
We'd love your thoughts about the PeerJ business model – should more journals be looking at lifetime memberships? Have you used a preprint server in the past, and what did you think? Is there enough innovation happening in academic publishing?
If you'd like to join in with the conversation either post a response here or send us a tweet to @CiteAb. Thanks!
-The CiteAb team