At CiteAb we work hard to get to know individual antibody suppliers so that you can be sure the data we hold is always up-to-date and correct. Every now and then we feature individual company highlights here on our blog, allowing you to get to know leading antibody suppliers too.
This week we're featuring antibodies-online, an international life-science research reagent distributor based in Aachen, Germany.

Antibodies-online was founded in 2006 by Dr Andreas Kessell and Dr Tim Hiddemann, and now operates from three global offices in Germany, the USA and China. The company claims to be the world's largest independent distributor of proteomics research reagents.
In addition to providing products to more than 2000 biotech companies and research institutions in 75 different countries, antibodies-online produces a great range of resources we think you might find interesting.
Patrik von Glasow, spokesperson for antibodies-online, told us: "We started producing resources because we noticed that many of our customers were coming to us with very similar questions about different products or methods.
"Our customer base is very technical, and they need solid reference material to help them plan and conduct experiments. As an industry leader in reagent sales we saw an opportunity to provide this reference material, and to become the go-to source that researchers use not only to find research reagents, but to learn about how to use them.  
"We hope that our customers will find our resource pages effective and helpful, and will continue to come back to our site frequently, and to ask questions where necessary."
Some of the company's most popular resources cover specific techniques – specifically, its Western blotting, ELISA, FACS,  and Proximity Ligation Assay resource pages have gathered a lot of interest and have been widely praised by researchers and students.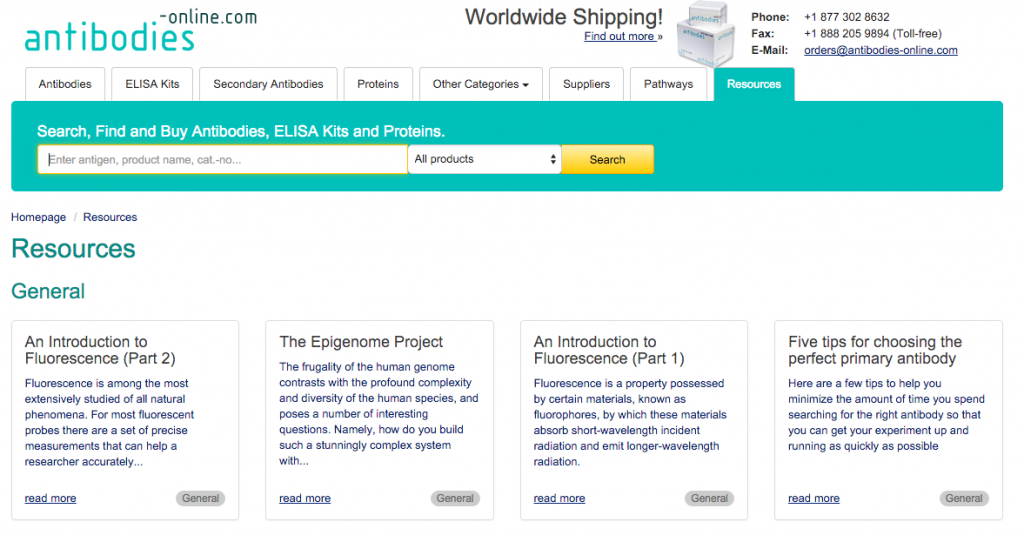 Patrik added: "In addition to offering resources for researchers, we employ a highly trained scientific support staff with extensive experience in the laboratory, and an in depth knowledge covering a wide range of applications, protocols, and experimental techniques.
"If a customer needs help planning or conducting an experiment, we suggest they contact one a member of our scientific support team. They're located in Aachen, Germany and Atlanta, GA, and are available during normal business hours in each of these locations."
Dr Andrew Chalmers, founder of CiteAb, said: "At CiteAb we aim to help researchers do their work more efficiently and with better products. Its great to see companies like antibodies-online offer resources that support this goal and make life easier for researchers.
"We also want to highlight that antibodies-online has committed to improving antibody validation, an issue close to our hearts here at CiteAb."
In 2013 antibodies-online partnered with Science Exchange to launch the independent validation initiative – a program to facilitate private third-party testing and validation of commercially available antibodies and assay kits through cooperation with leading laboratories in the United States. In the last year antibodies-online expanded its validation efforts to include its customer base.
Patrik said: "With the understanding that no one is better suited to judge a reagent's efficacy than a researcher who has spent his career studying one particular target, the customer validation program puts free, high-quality reagents into the hands of capable researchers, and collects valuable independent performance data that benefits the entire industry."
Researchers who would like to receive a free antibody to validate an antibodies-online product should submit a validation proposal using the following web-form: https://www.getfeedback.com/r/SvpA4y9o"
If you're interested in learning more about antibody validation, make sure you take a look at the 2nd International Antibody Validation Meeting run by the University of Bath and supported by CiteAb and AstraZeneca, taking place on 15 & 16 September 2016.
Access antibodies-online's resources pages here.
– From Katrina and the CiteAb team