Following the second CiteAb Antibody Awards held at the beginning of this year we are profiling some of the winners here on our blog.
As an antibody search engine, we'd obviously not have much to do without fantastic antibodies – making the 'Antibody of the Year' category fundamental.
This category awards the individual antibody that has been cited in peer reviewed academic literature the highest number of times during 2015 – the winner was Sigma Aldrich's Anti-β-Actin.
Sigma-Aldrich is a life science and technology company which was founded separately in 1935 and 1951 respectively, before merging in 1975 to form Sigma-Aldrich Corporation. The company was recently acquired by Merck KGaA, Darmstadt Germany and is now known as MilliporeSigma in North America.
MilliporeSigma provides solutions that enable scientists to spend more time advancing the promise of science through technologies that help detect the previously undetectable, and products that make it possible to monitor live cells in intricate detail. The company aims to solve the toughest problems in the industry by collaborating with the global scientific community, and through that help to increase access to healthcare.
The winning antibody, the monoclonal Anti-b-actin antibody, clone AC-15 was developed in the late 1980s by a team at Sigma-Aldrich Israel, including Efrat Reem, an expert in monoclonal antibody development, supervisor Zeev Lando, R&D manager of the monoclonal antibody department and Rafi More, a pathologist and R&D manager of the histology department.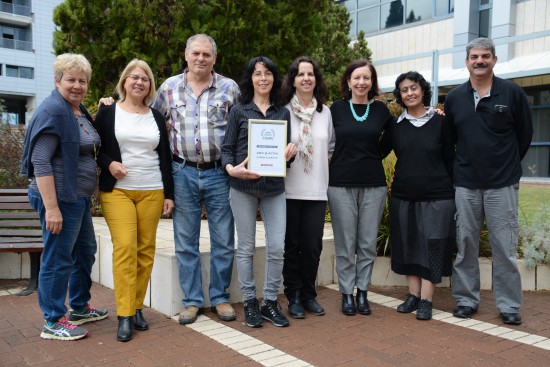 Sigma-Aldrich Israel had emerged with the acquisition of Makor Chemicals, a spin-off from the Hebrew University in Jerusalem, in 1978, and Bio-Yeda, a spin-off from the Weizmann Institute of Sciences in Rehovot, in 1986 (jointly called BioMakor).
Carolyn Crankshaw, Head of the Antibodies Segment at MilliporeSigma, explains: "A solid, versatile monoclonal antibody to the b-actin protein was needed by the research community and Efrat screened hundreds of positive hybridoma supernatants with extensive characterisation in all applications available.
"With the discovery of the AC-15 clone she performed in an amazingly wide range of cross-species validations including dog, guinea pig, leach Hirudo medicinalis, cat, pig, mouse, carp, chicken, sheep, rabbit, rat, human, cow and even the slime mold Dictyostelium d-discoideum.
"The gold standard AC-15 b-actin monoclonal antibody is the best characterised and validated antibody currently found in the market."
Over the years this clone has been transferred to bioreactor production, further purified and conjugated to reporter molecules like peroxidase and FITC. The monoclonal anti-b-actin antibody is one of many consistent, highly published cytoskeletal antibodies that have become gold standards, including antibodies to tubulins, actins and related proteins as well as specialized antibodies to tags and fusion proteins (e.g. HA, FLAG, c-Myc, etc. ), organelle markers (e.g. LC3B, UCP1, GRP78, , etc.), post-translational modification markers (e.g. 4G10(r), Trimethyl-Histone H3 K27, etc.), cell type specific markers (NeuN, AE1/AE3, Oct-4, etc) and many more.
We asked Carolyn whether MilliporeSigma had any new antibodies we should be looking out for. She told us that the company has recently licensed and launched isoform-specific monoclonal antibodies against the phosphohistidine modification. These new antibodies not only detect pHis, but they also discriminate between histidine phosphorylated at the N1 and N3 positions.
The team at MilliporeSigma were keen to explain to us that it is committed to maintaining consistent antibody quality, reproducibility and reliability – something we care a lot about here at CiteAb. The team also ensures that its highly knowledgeable technical support and R&D scientists are always ready to provide advice, support and assistance to their customers.
Dr Andrew Chalmers said: "The winner for the Antibody of the Year award was established using CiteAb citation data from the January – December 2015 period. Sigma Aldrich's Anti-β-Actin was the antibody with the highest number of citations over this period and we congratulate the team at Sigma-Aldrich Israel."
You can see all of Sigma-Aldrich's and Millipore's antibodies on CiteAb, and you can find out more about the company at www.emdmillipore.com and www.sigmaaldrich.com.
– Matt and the CiteAb team