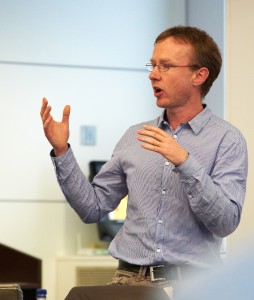 This week Andrew will be heading off to Washington DC to represent CiteAb at Neuroscience 2014. Will you be there?
If you plan to go and are interested in the work we're doing here at CiteAb, we'd love to hear from you and Andy would be keen to meet up with you there. Do drop him an email.
Andrew said: "This is the Society for Neuroscience's 44th annual meeting and I am really looking forward to attending, hearing the talks and getting the chance to meet with many of the people who have engaged with CiteAb since we launched just over a year ago.
"We're doing a lot of work aimed at making it easier for researchers to find antibodies that work, from developing a transparent search ranking system using citations, through to our involvement in the F1000Research Antibody Validation Collection. I am very happy to meet with anyone interested in this, so do get in touch with me."
Neuroscience 2014 is the premier venue for neuroscientists to present emerging science, learn from experts, forge collaborations with peers, explore new tools and technologies, and advance careers. More than 30,000 people from over 80 countries convene at the world's largest marketplace of ideas and tools for global neuroscience. Neuroscience 2014 will be held at the Walter E. Washington Convention Center in Washington, DC, you can find out more on the event website.
– Matt and the CiteAb team