Not all research antibodies can be bought off the shelf, but for researchers it isn't always easy to know which company to trust to produce reliable custom products.
This award celebrates the most reliable suppliers of custom antibodies or alternative affinity reagents – those that offer excellent service and fill a niche in the market.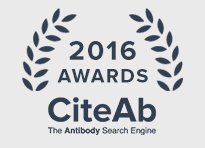 We're keen to get nominations for this category from either companies offering custom antibodies or alternative affinity reagents, or by those who use them in their work and have been impressed by the supplier they are nominating.
We ask that you please give as many details as possible in your nomination, our judges will be using this to make their decision. They'll be looking for companies that researchers report to produce reliable products, have good customer service or an ability to successfully fill a niche requirement.
To find out more about this category and to make your nomination, click here.
To learn more about CiteAb Antibody Awards, click here.
Categories close to nominations at  23:59 (GMT) on Friday 22nd January.
– Katrina and the CiteAb team