---
---
Back at the beginning of December we ran our first webinar and many of you from across the industry joined us to discuss the market trends we're seeing based on data we generate through CiteAb.
If you missed the webinar never fear, we have video of the session now available for you to watch, just enter your email address below to access it:
Here at CiteAb we produce antibody market datasets based on the analysis of hundreds of thousands of antibody citations to generate revenue, ensuring we're able to keep our main listing free and impartial.
This data provides a quantitative, unique and independent view of the antibody market, allowing suppliers to make more informed product development and marketing decisions.
From the data generated through CiteAb we are able to determine all sorts of interesting things, such as which countries are investing most in bioscience research, which companies are seeing growth or decline within particular countries (or even particular research institutions), which antibodies are most successful and which areas of bioscience research are seeing growth.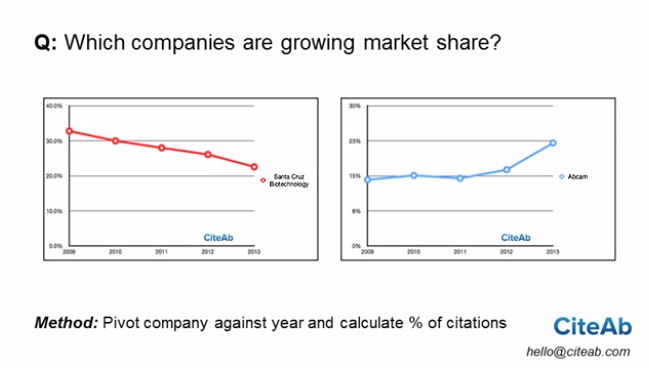 Dr Andrew Chalmers, co-founder of CiteAb, said: "Our core objective at CiteAb is to improve access to quality antibodies for researchers. However, obviously a service like CiteAb has to be monetised in order to operate in the long-term.
"Other search services available to researchers tend to operate on potentially biased business models – either allowing antibody suppliers to pay to be top-rated or basing their rankings on reviews which can be flawed or difficult to collect.
"Researchers are aware of this and it undermines the service provided, so it was really important to us that CiteAb remained impartial and able to give researchers the confidence they need to make an informed buying decision.
"For that reason, here at CiteAb we use an alternative business model which doesn't allow for any influence from antibody suppliers. Instead, we produce world class custom data sets."
Through the webinar Andrew explored the variety of datasets CiteAb is able to offer, and answered many of the questions you all had about how CiteAb and its datasets work.
Alternatively, we plan to host a second webinar in the spring which will be promoted through this blog and on Twitter from @CiteAb.
If you have any questions, either about the webinar or other elements of CiteAb, please email me, Matt Helsby, and I'll do my best to help you.
~ Matt and the CiteAb team