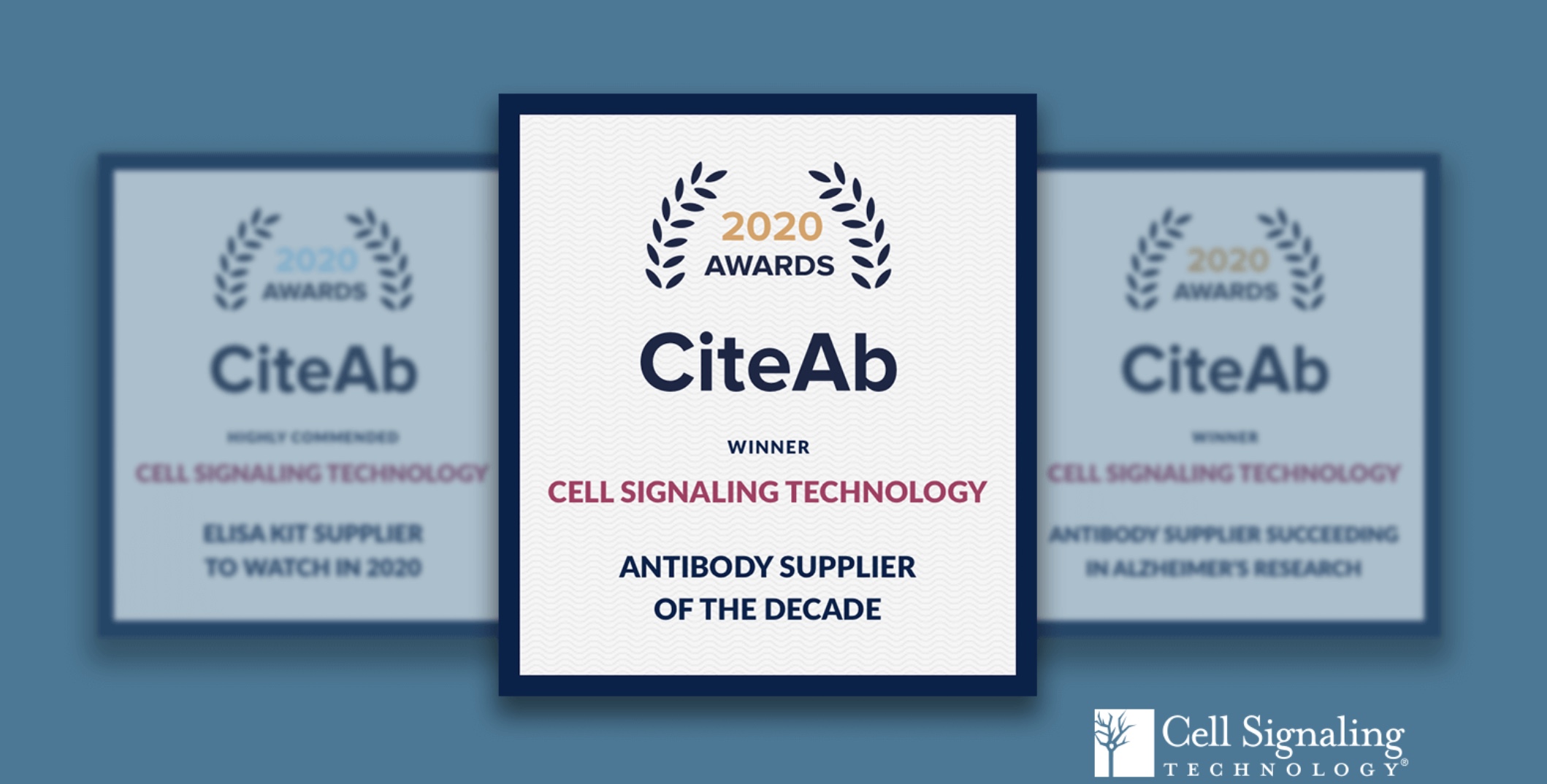 This year we had a unique, flagship award for a remarkable company – the company that has had the largest percentage total market share for its antibody products over the last decade.
To win an award for a successful year is a huge achievement and one certainly to be very proud of. However, to maintain that level of accomplishment for a whole decade really suggests that a company is operating at another level, is offering remarkable products with excellent customer service.
And that is the case for our winners of this award – Cell Signaling Technology.
In the Global Antibody Market, Cell Signaling Technology is the supplier with the largest market share of antibody citations for its products from the whole period between 2010 and 2019.
Cell Signaling Technology is a private, family-owned company based in Massachusetts, USA. Founded by scientists, the company is dedicated to providing high quality, innovative research and diagnostic products to accelerate biological understanding and enable personalised medicine.
Roberto Polakiewicz, Chief Scientific Officer, Cell Signaling Technology, said: "It's an honor to be recognised by CiteAb as both the Antibody Supplier of the Decade and the Antibody Supplier Succeeding in Alzheimer's Research. Both efforts are near and dear to our hearts, as we seek to provide researchers with the necessary tools to fight disease and enable discovery."
Dr Andrew Chalmers, founder of CiteAb, said: "Congratulations Cell Signaling Technology! What a huge achievement. This is a big category – celebrating not just the best, but the best of a whole decade. It takes dedication, commitment and a strong scientific foundation to achieve consistent results in the way Cell Signaling Technology has over the past ten years. We're all excited to see what this remarkable company can do in the next decade."
In addition, Cell Signaling Technology also won our Antibody Supplier Succeeding in Alzheimer's Research category, and was highly commended as an 'ELISA Kit Supplier to Watch in 2020'.
You can see all of the winners in the 2020 CiteAb Awards here: https://www.citeab.com/awards

Alicia and the CiteAb team