This year's CiteAb Awards saw many fantastic winners. Standing out both for the number of wins and highly commended awards it received is Cell Signaling Technology (CST), which is why the company is the first we're featuring in out 'Meet the winners' series.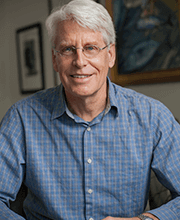 Katrina speaks to Chris Budde, Chief Commerical Officer Cell Signaling Technology.
Hi Chris. Cell Signaling Technology is our Antibody Company of the Year. Can you tell us a bit about how the company has achieved this success – what are your stand-out activities?
"Absolutely. The Cell Signaling Technology story has always been about scientists serving scientists, and not just by supplying the world's most assuredly functional antibody portfolio. Unlike any other company in our market, our products are made in-house and stand up to our extensive validation processes. Our multifaceted testing guarantees superior performance.
"We abandon more than 60 percent of the products we set out to develop because our validation standards are so high and we won't sell anything that doesn't meet them. We are razor focused on ensuring our products are not only sensitive and specific, but work superbly in a variety of applications.

"Being a private company, we have the ability to make choices that publicly traded companies cannot. We invest far more in research and development as a proportion of revenue than our competition. These investments, along with adding cutting-edge antibody development and validation technology and a team of in-house, Ph.D. scientists allows CST to bring the highest quality products to the market.
"Beyond making products, we make other investments in the scientific community. CST has maintained the PhosphoSitePlus® website for over 15 years. We have a team of life scientists and data wizards who canvass the scientific literature for posttranslational protein modifications and their impact on cell signaling and diseases; it is the most comprehensive resource for the study of posttranslational modifications in the world. PhosphoSite.org is a completely free resource for scientists.
"The CiteAb award is a testament to our obsessively high standards."
 Cell Signaling Technology won our cancer biology category. Which other research areas does CST excel in? Are you looking to grow in any other specific areas in the near future?
"Our team is focused on helping to solve the most difficult problems in key disease and research areas. This means we're always looking to produce high-quality products for use in research areas such as cancer, neurological disorders, immunology, and epigenetics."
You were highly commended in our 'Antibody company with sustained success in China' category – how will Cell Signaling Technology further grow its market share here? What are your plans in the country, and are there other major global markets you're planning to tackle in coming years?
"We are dedicated to empowering scientists by providing the world's highest quality, innovative research products to accelerate biological understanding and enable personalized medicine. This March we have a team starting in our new Shanghai office space to support the rapid growth of our business in China. The new facility triples the office and warehouse footprint and will feature CST's Global Innovation and Training Academy."
Michael J. Comb, Ph.D., Cell Signaling Technology President, and CEO, adds: "The decision to expand our presence in China was a logical step in our business growth strategy. It is important to make continued investments in this key market for Cell Signaling Technology. Customer satisfaction is our highest priority and this expansion will give us opportunities to establish two-way training and collaboration with our customers and to improve our product delivery service."
Jay Dong, Vice President and General Manager, China, and APAC, and Co-president of the Consortium of Academia-Industry and Entrepreneurship of the Chinese Society of Cell Biology adds: "It is an exciting time for life science researchers in China. The country is filled with great scientific opportunity and as a leader in life sciences, CST is taking all the necessary steps to support research in China."
Note that Cell Signaling Technology will be hosting scientific seminars and workshops in April at its new Shanghai Global Innovation and Training Academy, in close collaboration with the Chinese Society of Cell Biology and world-class scientists. The company's inaugural award for Innovation and Translational Research for Outstanding Scientists of Chinese Heritage will be presented at the event.
Are there any other exciting plans afoot at Cell Signaling Technology that you'd like to tell our readers about? Or any offers or new products you'd like us to promote?
"We are particularly excited about research in the field of immuno-oncology, involving the promise of unleashing the body's own immune defenses against cancer. We have the world's highest performing antibodies for exploring immuno-oncology and this is an area in which we expect to see a lot of work happening over the coming years."
Finally, Cell Signaling Technology founder Dr. Michael Comb won our Lifetime Achievement award – he tells us what this means to him.
"I am very humbled and honored to be recognised by CiteAb with this Lifetime Achievement Award. It is an acknowledgement of the company we have built, with a different business model from that of most other companies. Our goal at Cell Signaling Technology is not to source every possible antibody product with questionable performance and specificity. Instead, our large team of PhD scientists deploys exquisitely high standards to develop many of the most reliable products on the market to enable researchers to take faster and more confident strides in their research. At the same time, we consider our impact on the environment in every decision we make and it is nice to be recognized for this by our peers."
Further to this, Dr. Comb adds:
"Being scientists ourselves, we are truly passionate about scientific discovery. We are honored that Cell Signaling Technology has been recognized as Antibody Company of the year for having the most antibody life science research citations during 2017. Equally as gratifying is the way in which our antibody products are enabling cancer researchers, as the company has the most citations achieved in the cancer biology research field in 2017. All of us at CST are driven to support researchers, so they can discover faster and more frequently to enable a better future for healthcare."
We will be speaking to other winners from the 2018 CiteAb Awards over the coming weeks. We also have some new data being released very soon, and will be posting from AACR in Chicago during April, so keep an eye out on our blog for updates.
– Katrina and the CiteAb team