At CiteAb we work hard to get to know individual antibody suppliers so that you can be sure the data we hold is always up to date and correct. Every now and then we feature individual company highlights here on our blog, allowing you to get to know leading antibody suppliers too. This week we focus on Everest Biotech.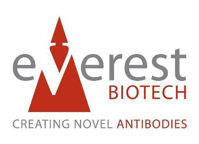 Increasingly, antibody suppliers are offering a money back guarantee – use their antibodies in your research and if they don't work you will get your money back.
Everest Biotech, specialists in anti-peptide and antigen affinity purified goat polyclonal antibodies, have now produced an insightful piece on the many ways that the purchase of commercial antibodies can go wrong, with tips on how to avoid these.
The piece is well balanced between an assessment of user errors (from poor storage through to failed Western Blots) and vendor errors (from batch-to-batch variations through to transportation problems).
Everest also offer a range of useful resources to help combat these issues, including a Western Blot troubleshooting guide and a link to CiteAb for checking antibody endorsement by publications.
Everest state that CiteAb is the best search engine available to find literature-endorsed antibodies.
Since 2000, Everest has been producing a catalog containing thousands of goat antibodies against a broad range of human, mouse and rat proteins of biomedical interest.
The company manufactures all of its own antibodies and tests them thoroughly. With Everest Biotech you can buy bulk antibodies from stock, get custom antibodies made by the company or collaborate with them on new antibodies.
Everest also do a number of special offers including a very tempting offer to get a free secondary antibody with every primary antibody purchased.
For more information about Everest Biotech see the company website or view Everest Biotech antibodies on CiteAb. The Everest Biotech blog post entitled The Troubles with Commercial Research Antibodies Dissected can be found here.
– the CiteAb team