At CiteAb we work hard to get to know individual antibody suppliers so that you can be sure the data we hold is always up to date and correct. Every now and then we feature individual company highlights here on our blog, allowing you to get to know leading antibody suppliers too.
Fitzgerald Industries International has been a leading supplier of antibodies and proteins since 1989. This truly global company has headquarters in Massachusetts, its product team in Ireland, and over 60 distributors worldwide.
The company has over 50,000 products, with particular strengths in cell biology, signal transduction and neuroscience.
Evelyn Matthews, Business Development Manager for Fitzgerald Industries International, says: "We pride ourselves on our excellent customer service and our ability to give customers the close attention they deserve technically to achieve the results we understand are key to their projects and careers.
"We have a number of PhD level technical experts in our team and we can identify with the pressures and strains involved in getting that perfect 'n=3' result!"
Product Focus: TNF alpha antibody (70R-13763)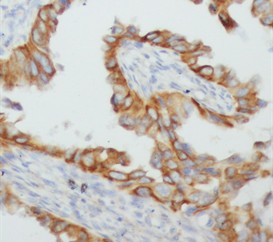 Scientific studies identifying TNF alpha involvement in the pathogenesis of Alzheimer' disease has been a heavy focus of interest in the last 10 years. In vitro, with use of a human monocytic cell line, beta amyloid was found to stimulate secretion of TNF alpha [1].
TNF alpha in conjunction with interferon gamma was shown to induce A-beta production [2]. In addition, A-beta was shown to stimulate microglial inflammatory pathways, resulting in neurotoxicity mediated by TNF alpha generated by reactive microglia and monocytes [3].
Fitzgerald Industries International has over 50 TNF alpha antibodies, with one of their most popular being their affinity purified rabbit anti-TNF alpha due to its specificity and sensitivity in IHC and for its keen price. It has been validated for detection of Human, Mouse and Rat TNF alpha protein in Western Blotting and in IHC-P.
For more information about Fitzgerald Industries International please see http://www.fitzgerald-fii.com/ or view Fitzgerald antibodies on CiteAb
– Matt and the CiteAb team
References
1. Klegeris A, Walker DG, McGeer PL. Interaction of Alzheimer beta-amyloid peptide with the human monocytic cell line THP-1 results in a protein kinase C-dependent secretion of tumor necrosis factor-alpha. Brain Res. 1997;747:114–121.
2. Blasko I, Marx F, Steiner E, Hartmann T, Grubeck-Loebenstein B. TNF-alpha plus IFN gamma induce the production of Alzheimer beta-amyloid peptides and decrease the secretion of APPs. Faseb J. 1999;13:63–68
3. Combs CK, Karlo JC, Kao SC, Landreth GE. Beta-Amyloid stimulation of microglia and monocytes results in TNF-alpha-dependent expression of inducible nitric oxide synthase and neuronal apoptosis. J Neurosci. 2001;21:1179–1188