At CiteAb we work hard to get to know individual antibody suppliers so that you can be sure the data we hold is always up to date and correct. Every now and then we feature individual company highlights here on our blog, allowing you to get to know leading antibody suppliers too.
This week we have been speaking to Miltenyi Biotec, who manufacture antibodies in Bergisch Gladbach in Germany, and have subsidiary premises throughout the world.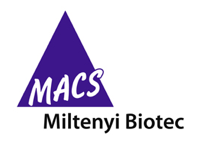 Miltenyi Biotec was set up in 1989, and got its unique name from its founder, German physicist Stefan Miltenyi. The company pioneered MACS magnetic cell separation technology in 1990, and has since grown into a vibrant, multinational team of more than 1300 biomedical scientists, physicians, engineers and support groups working in 22 countries.
The company is now home to the MACS Academy, where it provides comprehensive training courses as part of its commitment to support scientists and the scientific community. Today, the company develops innovative and reliable technologies for scientists and clinicians around the world.
Miltenyi Biotec specialises in directly conjugated primary antibodies for Flow Cytometry and has a comprehensive portfolio encompassing 5000 different products. All of the company's antibodies are made on-site in Germany, and are subjected to strict quality control standards.
The company has also recently released a range of recombinant engineered antibody clones for Flow Cytometry. Using a premium antibody selection technology and site-specific mutation strategy, Miltenyi Biotec generates recombinant flow cytometry antibodies that show significant advantages over conventional monoclonal antibodies.
To further increase antibody specificity, site-specific mutations are introduced into REAfinity Antibodies which yield additional benefits in performance. For example, the Fc region of a REAfinity Antibody is genetically modified to nearly abolish unwanted Fcγ receptor binding. Consequently, the standard FcR blocking step can be removed resulting in both time and blocking reagent savings.
Additionally, lot-to-lot consistency and high antibody purity are achieved through strictly standardised production processes and the absence of unwanted IgG heavy and light chain mixtures – a feature common to conventional monoclonals. Miltenyi Biotec claim that these advantages make REAfinity Antibodies the optimal choice for large-scale antibody-based screening and long-term experiments.
CiteAb now lists all of Miltenyi Biotec's antibodies. We are always looking for new companies and academics to share their antibody data with us, so if you have antibodies that are not listed on CiteAb do get in touch.
– Matt and the CiteAb team