Our whole team wants to say a big congratulations to our summer intern Joe Fenn who graduated last week with a First in Molecular and Cellular Biology.
Joe joined us recently for a summer internship and has learnt all about how the site works and has been helping Matt keep the site data updated.
Originally from Poole, 22 year old Joe spent four years studying at the University of Bath including a one-year placement at the Health Protection Agency looking at invariant Natural Killer T-cells and their role in the immune response to Tuberculosis. He was subsequently awarded the Pfizer prize for providing the best student placement report.
We have asked Joe a few questions about studying Molecular and Cellular Biology at Bath: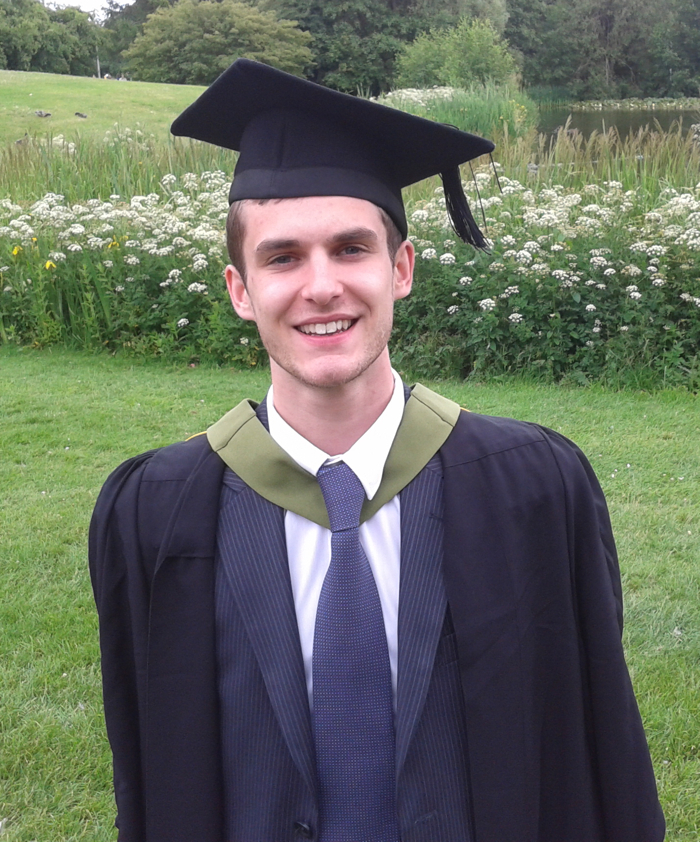 What was the main highlight for you in attending University?
This is a difficult question! I really can't pick out one single moment. For me, first year in general was amazing. I met a lot of awesome people including my girlfriend Didi, a definite highlight!
What was the best part of your course?
I think the best part of the course was final year. On our course we got a lot of choice when it came to the modules we wanted to study, especially in our final year. This meant that I was basically just doing the stuff that I enjoyed without having to study things like bioinformatics and enzymology (no offence bioinformaticians and enzymologist; its just not my thing!). Oh, and any part related to antibodies of course!
What was the toughest part of your course?
I think that the toughest part of the course for me was the start of placement at the Health Protection Agency. It was a massive change from the first two years of study. I suddenly had to adapt to 9 – 5 hours and take on a lot more responsibility. At the time I felt pretty out of my depth, but everyone there was really nice and I soon got used to the way things worked there and ended up having a really good year.
Were you in any clubs or societies at Uni?
I was part of the University Kickboxing club, representing the university in a couple of competitions (with pretty limited success I have to admit!). I also trained in mixed martial arts whilst on placement.
What do you want to do now that you've graduated?
I'm going to continue with my internship with CiteAb for the moment. Then, in September, I'm heading to Malaysia and Indonesia for three months of traveling with my girlfriend. After that, my plans are fairly loose. I'm moving to London and then the job hunt can begin! I would love to stay in science and have always been interested in the clinical side of things so that will be my starting place when I look for work.
Over the next few weeks Joe will be helping Matt and Andy to add new publications and antibodies to CiteAb, learning a lot about them in the process! He will also be exploring ways to link even more publications to our listed antibodies, and contacting researchers to increase the number of non- commercial antibodies CiteAb lists.
Congratulations on a fantastic degree result Joe – from all of the CiteAb team!