Here at CiteAb we have kept a close eye on global antibody markets over the past few years – highlighting China's gains and a shrinking US market, and the significant growth of the Indian market.
Today we reveal data that shows two markets which have crept up and become increasingly strong over recent years – Taiwan and Korea.
Neither country is particularly large, especially when considered against powerhouses such as the US and China – Taiwan has a population of 23.4m and Korea (North and south) of 75.12, compared to China's 1.3bn. However, both have a good number of internationally renowned life science research institutions which has resulted in increased demand for antibodies over the past six years.
In the past year alone, Korea's claim of the global antibody market has increased from 2% to 3.5%, a large leap compared to the 0.5% increase seen in the previous year.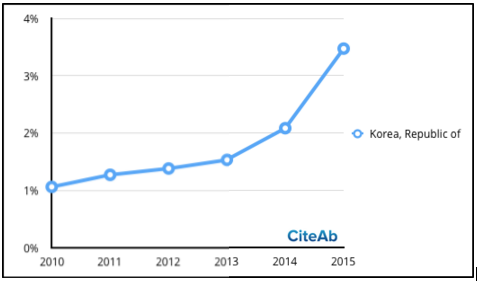 Similarly the Taiwanese claim of the global antibody market has increased from 0.5% back in 2010, to nearly 2.5% today.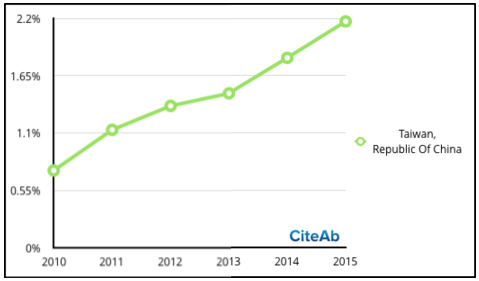 From Korea, most use of antibodies has been from two of the three Korean 'SKY' universities – those considered the most prestigious in the country – Seoul National University and Yonsei University. The third ranked institution for antibody use is Sungkyunkwan University, a private research university which is home to one of the country's leading medical research centres and has dedicated colleges of science and biotechnology.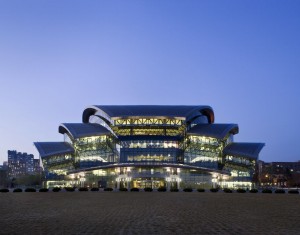 Leading institutions using antibodies in Taiwan include National Taiwan University, considered one of the leading universities in the country, and National Yang-Ming University which is internationally known for its research in fields of Medicine, Life Sciences and Biotechnology.
Dr Andrew Chalmers, founder of CiteAb, said: "The data we have in CiteAb highlights the number of academic research papers using research antibodies that are produced by each country, and therefore acts as a fantastic indicator of bioscience research activity around the world.
"An increased demand for antibodies for research in institutions in both Taiwan and Korea is currently being met by a small number of suppliers, some based within the countries themselves and others operating through distributors.
"Take, for example, Abnova which is based in Taipei in Taiwan. The company produces its antibodies in-house in a state-of-the-art facility, and is well placed to meet the demands of its home nation in addition to exporting products abroad. Our data shows which suppliers are doing well in each country – in Taiwan we see Abnova and Genetex doing well, in South Korea a range of companies are having success, with Santa Cruz and eBio standing out.
"With the continued growth of these new markets we'd expect to see more international companies look to break into them and capitalise on their expansion over coming years – or risk getting left behind."
To see trends in the top five global growth countries please do sign up below and you'll be sent a snippet of the full data set. If you want more detailed data on any aspect of antibody use, (top antibodies, top suppliers, country use trends) then send Matt an email and we can discuss available data and pricing with you.
– David and the CiteAb team