In an exciting step to simplify the process of collaborating and writing new research, F1000 has today announced the launch of innovative new tool F1000Workspace.
As you'll be aware, here at CiteAb we aim to enhance the effectiveness of research and to ensure that researchers have the tools required to make good decisions about the antibodies they use. We're always enthused when other organisations with a similar goal – to enhance the quality of research – launch exciting new products that do this.
A technology ecosystem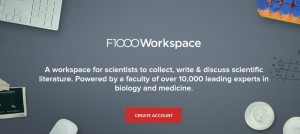 In a nutshell, F1000Workspace is a suite of tools for scientists that will speed up and simplify the tasks involved in writing, collecting literature, collaboration, reference management, preparing for publication, and, finally, publishing research findings. It is the latest component part of a technology eco-system offered by F1000, a community of over 10,000 biomedical experts.
F1000Workspace allows researchers to collect, save and annotate articles from the web, save references in their browser and import PDFs instantly. It allows them to search PubMed, create automatic bibliographies (in over 7,000 citation styles), and access references from any computer. It gives researchers article recommendations from its Faculty, and smart citation suggestions. And importantly, F1000Workspace lets researchers collaborate, share and write in the same space.
Enhanced antibody validation
One of the reasons we're really excited about this new product is that F1000 plans shortly to be developing a template within the F1000Workspace authoring environment for Antibody Validation articles to assist in encouraging researchers to share these important pieces of work for the benefit of the scientific community. We've written in the past about how important antibody validation is for enhancing the reliability and reproducibility of research.
More broadly, however, we believe that F1000Workspace will reduce the barrier to researchers sharing good-quality science such as small results, negative/null findings, and replications, which would typically not be shared due to a lack of time.
Workspace in practice
On a practical level, F1000Workspace has been built to work with the most common types of references that scientists need: research articles, books, software, websites, conference proceedings and personal communications. Users can import their existing libraries from other software or they can easily add articles directly from the journal website and search engines like PubMed, or by importing PDFs.
All references and PDFs in F1000Workspace are kept in a secure cloud and can be accessed from any computer. Extensions are available for the main web browsers that allow researchers to collect and annotate articles and webpages. Plus, the desktop app automatically imports PDFs from users' computers to F1000Workspace. And when users are ready to write up their research, an easy to use Microsoft Word plugin is available whether you're using Windows or Mac.
Vitek Tracz, chairman of F1000

Vitek Tracz, chairman of F1000, told us: "F1000Workspace offers a set of services for writing and collaborating, and easy access to search all kinds of literature, including F1000 recommendations in the context of the documents users work on.

"Working in tandem with all of other F1000 services, F1000Workspace helps to make the entire publishing cycle faster, simpler and easier for scientists."
You can find out more about F1000Workspace here, and about F1000Research's efforts to enhance antibody validation here.
– Andrew and the CiteAb team