Last week, our founder Dr Andrew Chalmers attended the Antibody Validation: Standards, Policies, and Practices workshop in California. The event aimed to develop validation approaches to increase reproducibility in preclinical research and improve the chances for breakthroughs in treatments and cures.
More than 100 scientists and researchers spent three days working through the complexities uniquely presented by research antibodies at the workshop hosted by Global Biological Standards Institute's (GBSI) at the historically significant Asilomar Conference Grounds in California.
At the event, Andrew presented on CiteAb and talked about our role in improving antibody validation. Dr Chalmers said: "This was a great follow on from the 2nd International Antibody Validation Meeting which we held here in Bath in September, and it was good to see people who attended both and carried learning from the Bath event to California."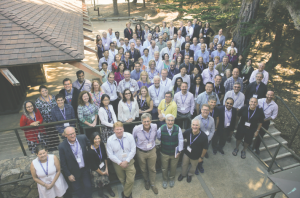 Building upon the conceptual framework that the International Working Group on Antibody Validation recently published in Nature Methods, attendees voted on key issues within specific antibody applications quality requirements for producers and requisite training for researchers. They also explored the role and responsibility of journals, funders and academia in the solution.
Going forward, application-based working groups will define the validation standards and steps for implementation that will be publishable in 2017 for use by the global biomedical research community.
Dr Chalmers said: "The community is really waking up to the need for validation of antibodies. James Anderson, Deputy Director for Programme Coordination, Planning and Strategic Initiatives at the National Institute of Health, summed this up when he stated during his talk that 'we owe it to our patients'. He made this comment as antibodies are absolutely key for pre-clinical research so if we don't sort out their validation then patients will not get the breakthroughs and reliable new medicines they need and deserve."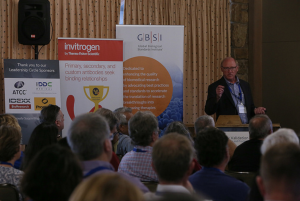 James Anderson said: "The time is right for raising the bar on standards for antibody validation. The progress made at GBSI's workshop, with agreement from this broad representation of stakeholders, should make a significant impact on improving research reproducibility critical to finding new treatments and cures."
All groups that are stakeholders in production and use of quality research were represented at the workshop. GBSI hosted the event that was planned in conjunction with The Antibody Society.
You can read more about the event in this Nature article, and can watch a video of the post-event press conference.
Dr Chalmers said: "Overall this was an extremely well run event which will help to move the sector forward in terms of how it thinks about antibody validation and develops sector-wide validation methods."
–
Matt and the CiteAb team