When we saw someone we follow on Twitter having a good ol' rant this week about lab 'borrowers' – those pesky individuals who will happily sneak in when no one is looking, rifle through your drawers and nab equipment – we decided to ask you all what measures you go to in order to protect your things. The honesty, (and complete lack of sympathy) amused us, so we thought we'd share some of the highlights with you!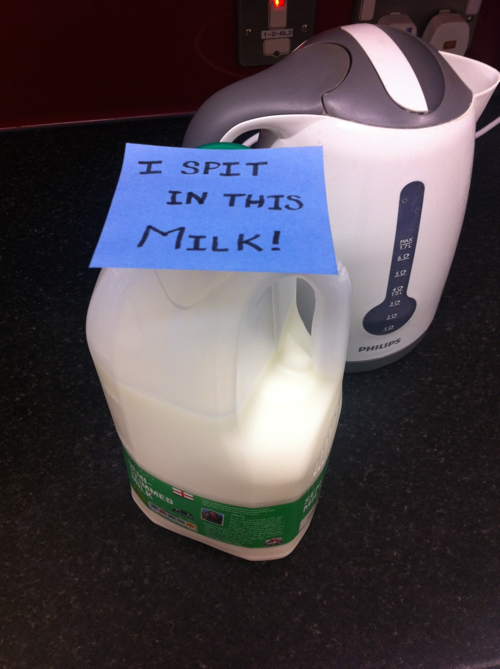 Toxins – beware!
One tweeter told us that after a senior postdoc in his lab borrowed patch clamp solutions from him, they had a paper published in Nature and didn't acknowledge him. His come-back? To label all solutions as toxins from there on in…
Lo sentimos – no entiendo!
Language skills will get you far in life – especially if your colleagues like to use your antibodies! One tweeter claimed that colleagues had taken to labelling antibodies in foreign languages to deter 'borrowers', but didn't clarify whether she herself was indeed the borrower being deterred…?
Green eyed monster
It isn't just lab equipment that grows legs and walks. A google pluser has confessed that he has resorted to extreme measures to protect his milk in a communal fridge – adding tasteless but revolting looking green food colouring to put off any pesky colleagues.
Atishoo – bless you!
One particularly evil genius told us all about his lab partner who would regularly take his lab coat rather than find their own. To get them back, he mixed some childs slimy 'goo' with tissues and put them in the pockets, ready to be found by unsuspecting fingers!
Hide & seek
Another tweeter told us about her 'prized pipette' – we're not judging, its perfectly, perfectly normal to harbour feelings for a pipette… Anyway, it must be fairly prized indeed, as she takes extra measures to protect it, hiding it from borrowers and even inventing the hashtag #donttouchmypipette!
Making up
Not all lab borrowing ends in fall-outs. We loved the story shared by one of our followers who ended up marrying her highly annoying lab colleague after challenging him over a missing tray of flasks. It turned out he had dropped it and broken them all – but he was so contrite she took him for a drink. The rest, they say, is history!
So – do you have a colleague who likes to 'borrow' your things? Have you resorted to extreme measures to get even? Tell us all about it – we might even use some of your ideas ourselves! 😀
– Matt and the CiteAb team