In the past year we have noticed a shift in the market, with a small number of companies starting to offer knockout cell line catalogues for research. Today I am taking a look at how these products have gained popularity, highlighting some of the companies I've found that are already in this market, and the types of cell lines they offer.
Many companies have offered custom knockout cell lines for some time, but only recently have I started to see the introduction of catalogued products – for example, Abcam launched their catalogue of products in 2019.
As we have outlined in previous blogs, over recent years CRISPR-Cas9 technology has emerged and been recognised as a popular and reliable method for genome editing – this allows genes to be quickly and reliably 'knocked out' from cells.
To precisely knockout a genome target, researchers would have to go through a number of time-consuming processes, from choosing a cell line and selecting CRISPR-Cas9 reagents, to screening clones and validating the initial characterisation of edited cells.
Companies like Horizon were early to spot an opportunity to supply ready-made cell lines to researchers – on their website they provide advice on developing your own knockout cell line, but also outline the availability of their catalogue products that will save researchers time and effort. Others, like Accegen, have a catalogue search function for knockout cell lines.
These are just a few examples of a growing market of knockouts in immortalized cell lines for an ever-expanding selection of targets, including those in popular cell lines such as HeLa and HAP1 cells. Ultimately I expect there will be many thousands for researchers to choose from – hopefully making it possible for them to find knockout cell lines for any target of interest.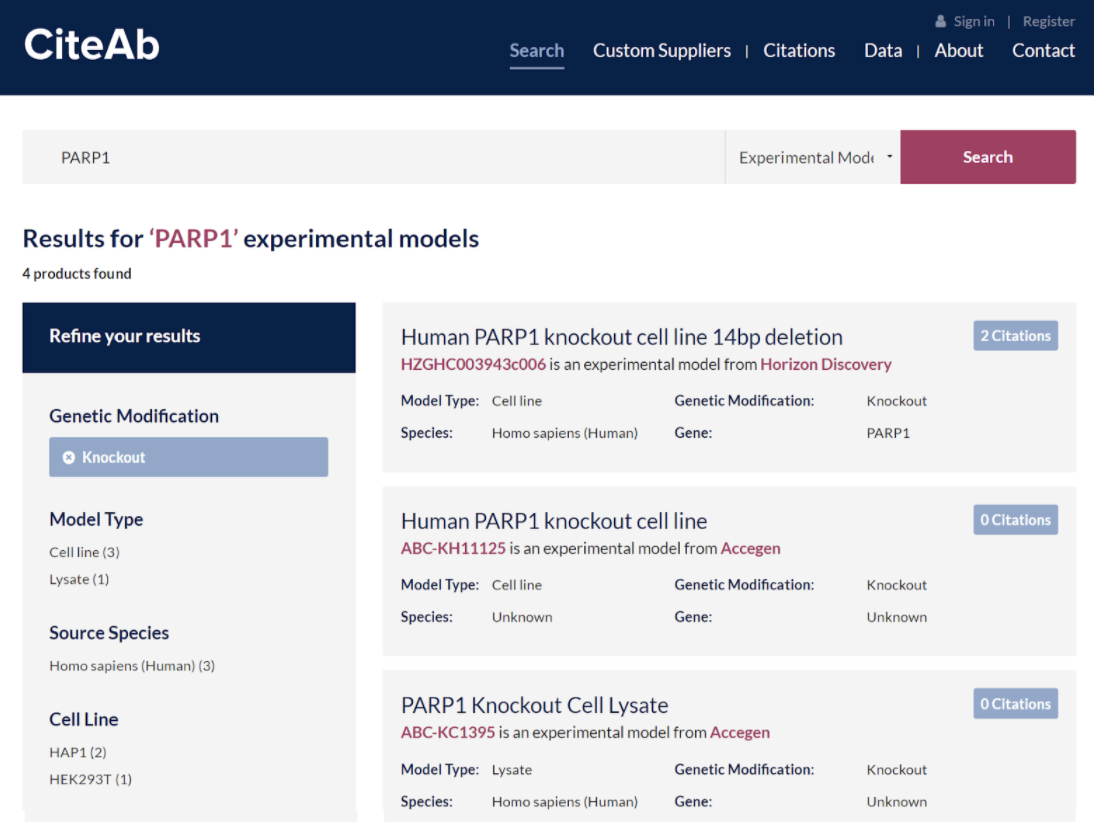 Here on CiteAb, we have an ever-growing collection of knockout cell lines and lysates from a variety of suppliers so researchers can find the perfect knockouts for their experiments – you can use our experimental models search function and then filter the results to find cell lines and lysates filtered by genetic modification, parental cell lines, species and more.
Do you supply knockout cell line products? Get in touch with me and I'll help you list your products on CiteAb, so that when researchers are looking for items to use in their research, yours are included in their search results.
And if you're a researcher looking for knockout cell line products, do take a look at our search and see whether there is something suitable. However, if you're struggling to find the right product, then there are also a lot of companies that can make you a custom product – for example Oxgene, Cyagen and Canopy Biosciences – take a look at our custom supplier pages for details. 
– Rhys and the CiteAb team