We talk a lot about our passion for excellent antibody validation, and today we're going to shed some light on a specific way of validating antibodies, using knockout (KO) validation.
Validating antibodies is essential for ensuring the reproducibility of research, and there are a number of methods used for validation. One of the most accepted and trusted validation processes for antibody specificity is KO validation.
KO validation is an incredibly robust technique to confirm specificity by testing the antibody of interest in a knockout cell line or tissue that does not express the target protein – this results in highly specific antibodies.
A number of the suppliers that we work with are using KO Validation, and give details of all of their validation methods on their websites. However, today we're going to look at the application of KO validation by the winners of our 'Antibody Supplier succeeding in knockout validation' category from the 2020 CiteAb awards – Abcam.
This was a brand new award which was made based on our data for the use of knockout validation. It was won by Abcam, the company with the largest percentage of antibodies in our current listings with supplier knockout validations.
Dr Alejandra Solache, VP New Product Development, Abcam, said: "Abcam's dedication to high quality, combined with our scale and influence, puts us in a unique leadership position with significant responsibility within the industry. The scale of our initiatives, and the breadth and depth of our reagent portfolio, means that when we introduce a validation technique like the use of KO models as negative controls, it can benefit thousands of researchers globally.
"It also helps set industry standards in antibody validation. At Abcam, our mission is to help scientists achieve their discoveries faster, and providing reagents that work the first time, every time, is key to fulfilling this goal."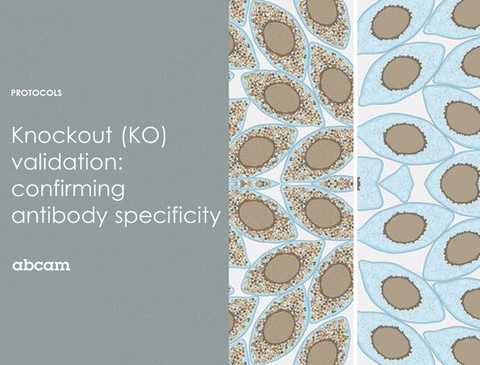 Dr Andrew Chalmers said: "Here at CiteAb we talk regularly about the progress being made in the field of antibody validation, so this year we wanted to recognise suppliers who are making excellent use of knockout validation technology while also celebrating adding validation information to our listing.
"Abcam were early adopters of this validation method, and introduced it at scale in 2016. At that point, Abcam rolled out the provision of knockout validated antibodies on an unprecedented scale, demonstrating a commitment to improving validation standards while also ensuring that a higher price is not to be charged for these products.
"Congratulations to the team at Abcam for winning this very meaningful award."
To find out more about Abcam's knockout validation, visit https://www.abcam.com/primary-antibodies/knockout-validation
– Katrina and the CiteAb team