Next week is the 2015 Society for Neuroscience annual meeting, the world's largest meeting on the brain.
Andrew, our founder, is attending the event on October 17-21 in Chicago, and would love to hear from any of you we've worked with or who have used CiteAb over the last few years, and to meet up if possible.

Andrew said: "I'm really looking forward to Neuroscience and am keen to meet up with lots of the people we've worked with through CiteAb while I'm there. If you're attending and would like to catch up for a coffee please do give me a shout beforehand."
The annual Society for Neuroscience meeting brings together more than 30,000 neuroscience researchers, clinicians, and advocates from around the world to share the latest developments in brain research and to hear from leaders in the field.
The annual meeting of the Society for Neuroscience will feature more than 15,000 presentations on brain function, health, and disease, covering topics such as traumatic brain injury, addiction, technology, and aging, among others.
What shouldn't you miss when visiting Chicago?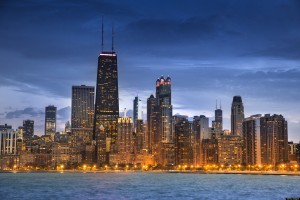 Well, obviously you shouldn't miss the chance to grab a coffee with Andrew and talk all things antibodies, but beyond that there are lots of things to see and do while you're in one of the largest cities in the US. Here we've outlined a few we fancy, and thought you might like to know about.
Ride the 'L'
The 'L' is Chicago's elevated train system and will take you all over the city quickly and easily. When you enter a train station, you can pay your fare at the turnstile or gate by touching your contactless bank card. Stations have maps and signs to help you find your way. Follow signs to the boarding area for your train. When the train arrives, note the train's route and destination. A Blue Line train to O'Hare will say "O'Hare" on a blue background on the front and inside the center, side window, for example.
Visit Michigan Avenue
Known as the 'Magnificent Mile', Michigan Avenue district is the ultimate Chicago experience. Endless shopping, majestic architecture and lively entertainment make this an area not to miss. If you walk north along Michigan Avenue you'll come to Michegan bridge, which gives a great photo opportunity over the Chicago River.
Take in Chicago's historic downtown
If you're an early bird and you have a spare day outside SfN2015 make sure you take in the Chicago Architecture Foundation's 10am tour 'Historic Downtown: Rise of the Skyscraper'. Make sure you have comfy shoes, this is a 2 hour walking tour, but its a really good way to see Chicago's Loop layout and learn about the city's architecture.
Visit the Art Institute
If you go to one museum in Chicago, make sure its the Art Institute. Home to a world-famous Impressionist collection, and 20th-century American modern art gallery, this is one stop off you definitely shouldn't miss.
Get a birds eye view
The Hancock Observatory is Chicago's third-tallest building, and the view from the top is spectacular. From here you can see Wisconsin, Indiana, and Michigan. Talking telescopes point out landmarks in each direction.
Dip your toes in the water
If you need a break from the high rises and busy streets, head to Oak Street Beach and bury your feet in the sand. With great views across Lake Michegan, this is a great spot for people watching and photo taking, but the water is pretty cold!
Have you any other suggestions for great places to visit in Chicago? Share in the comments below, or tweet us at @CiteAb and include the hashtag #SfN2015.
– Katrina and the CiteAb team