For the first time in 42 years, use of monoclonal antibodies has overtaken polyclonals in the research antibody market.
Production of monoclonal antibodies was first described by Georges Köhler and César Milstein in 1975, and the pair were awarded the Nobel Prize in 1984. Monoclonal antibodies then became the dominant antibodies used in therapeutic and diagnostic research.
However, CiteAb data shows that polyclonals continued to be most used in the broader research antibody market for a long time after the discovery of monoclonal antibodies. A very gradual decline in the use of polyclonals and an increase in monoclonals can be seen, but only in 2016 – 42 years after their discovery – did monoclonal antibodies become more widely used than polyclonals overall.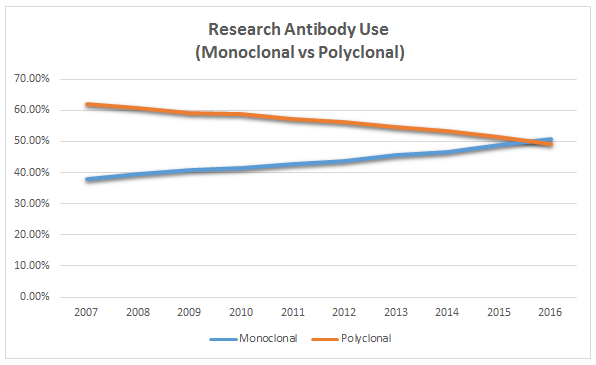 Speaking about this finding, founder of CiteAb Dr Andrew Chalmers said: "Our team has looked at the specific citations for individual primary research antibodies, (we excluded secondary antibodies), over the last ten years and worked out the market share claimed by monoclonal antibodies versus polyclonal antibodies.
"We were excited to find that this big milestone in the monoclonal versus polyclonal antibody market had just taken place."
As our regular blog readers will know, here at CiteAb we emphasize the amount of validation an antibody has as being key in choosing those that work best – rather than whether or not an antibody is monoclonal or polyclonal.
However, monoclonal antibodies, and especially recombinant monoclonals, should make it easier for suppliers to produce products with minimal batch to batch variation over very long time periods.
Dr Chalmers adds: "It is important to note that this data applies to primary antibodies only. If we were to look at the secondary antibody market we would see that the antibodies cited are almost exclusively polyclonal."
Our team is always keeping an eye on CiteAb's data to spot exciting changes in the market – we'll always report these changes here first so make sure you're already following our blog so you don't miss out on any other exciting announcements in 2017!
– David and the CiteAb team