In the data we're releasing today we explore those antibody suppliers that are doing the most to support the study of post-translational modifications (PTMs).
Post-translational modifications involve the covalent addition of groups such as phosphate or methyl moieties. The addition of these groups are commonly linked to regulation of protein function and so play a key role in almost every biological process or disease.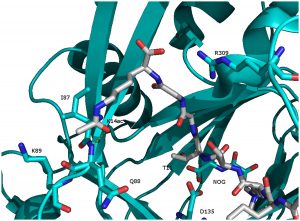 To create this data set we identified all the citations for antibodies raised against proteins with a PTM and excluded the citations to unmodified proteins.
The citations were then grouped depending on the modification type recognised. For example we grouped all the citations for anti-phosphorylation antibodies – making it possible to analyse the data for anti-PTM antibodies and also for specific types of PTMs such as phosphorylation.
Dr Andrew Chalmers, founder of CiteAb, said: "Our data shows that Cell Signaling Technology lead the way for supporting PTM research. The company's anti-PTM antibodies are responsible for over 60 per cent of citations – putting them way out in front."
Coming in second place with 14 per cent of citations is MilliporeSigma, followed by Abcam with 10 per cent.
Dr Chalmers adds: "All three companies are making very significant contributions to the study of PTMs, although a number of smaller specialist companies are also making a valuable contribution. Active Motif is showing an increasing share and is now well inside the top 10 suppliers, and we're also seeing Diagenode and Bethyl Laboratories do well."
In terms of the antibody types used, the increased recent adoption of rabbit monoclonals means there has been a big shift away from polyclonal antibodies, although these are still frequently used and are still responsible for almost 50 per cent of citations. In addition, mouse monoclonals are also still commonly used.
When compiling this dataset we identified antibodies for over 25 different modifications. The data demonstrates that Phosphorylation was the most commonly cited modification, with antibodies against methylated proteins and acetylated proteins also being widely used.
Dr Chalmers said: "It will be interesting to see which of those modifications that are further down our data list for citations show growth in the future, as focus areas for studies adapt and change."
Finally we assessed which proteins are most often modified? We identified over 500 different proteins that had cited antibodies raised against their PTMs and then we looked at the trends in their citation rates.
Dr Chalmers added: "This analysis gives a guide to the most studied proteins with PTMs – outlining which proteins are being studied more and which have been looked at less.
"This is a valuable resource for suppliers, allowing them to prioritise their antibody development. Today we're making the data for the top ten targets available for free to those who drop us an email."
If you'd like to discuss this dataset further or have a chat about any other element of CiteAb data, please do email Matt who'll be able to help.
– David and the CiteAb team
Image citation: Lohse B, Helgstrand C, Kristensen JBL, Leurs U, Cloos PAC, Kristensen JL, et al. (2013) Posttranslational Modifications of the Histone 3 Tail and Their Impact on the Activity of Histone Lysine Demethylases In Vitro. PLoS ONE 8(7): e67653. doi:10.1371/journal.pone.0067653