Today I am going to take a step back from our detailed data posts and share with you some information on the variety of ways in which reagent suppliers have worked with us to date.
Most of the companies we work with are reagent suppliers. There are broadly four products that we offer suppliers through CiteAb – citations, market data, published images and premium or custom listings. I am going to give a quick overview here of each of these, but as always if you've any questions you can get in touch with me and I'd be happy to talk about your specific needs. 
We have also worked with other types of companies – investment firms, research organisations and reagent distributors among others. Their needs are wide and varied, but inevitably they need to establish a greater understanding of the markets they are operating in so as to effectively plan and forecast. Today I am going to focus on how reagent suppliers can work with us, and I'll look at these other companies in more detail in the future. 
Citation provision
Our product citations are of the highest quality and are independently verified. They cover antibodies, biochemicals, instruments, kits and more, and are provided either through our citation plug-in (often referred to as the CiteAb widget), an API or a hosted database.
Displaying citations on your website can help to drive sales by providing real-world examples of your products in use in peer-reviewed papers – it helps researchers to understand how your product will likely work in their experiment.
Our technical teams can work with you to find the best solution for your needs and to get you set up. Read more about our citation services.

Market data
Probably what we're best known for at CiteAb, our market data is used by the world's most successful suppliers for a range of reasons. It can inform strategic and business development by providing insight to trends in the market and allowing benchmarking of competitors performances.
Our market data is also used by those reviewing their product pipelines, allowing the prioritisation of product development in expanding areas of research, or the selection of applications for antibody validation. We also see companies' marketing and sales teams use our data to understand their competitors, to gain insight into how their products are used, and to plan more effective communications campaigns.
Read more about our market data.
Published images
Our published images allow you to support researchers in their work by providing real-world examples. Through this service, we provide images to you to use freely. Providing these real-world examples to researchers can help to enrich your product sheets and marketing materials and drive sales.
Our images are labelled with the reagents, applications and reactants that were used and are cropped to the specific panel of interest, making it easy for researchers to quickly access the information that is most valuable to them. This extra layer of complex information assists researchers when they are designing their experiments, and they can be more confident in their experimental design when they have used worked examples. 
Find out more about our published images.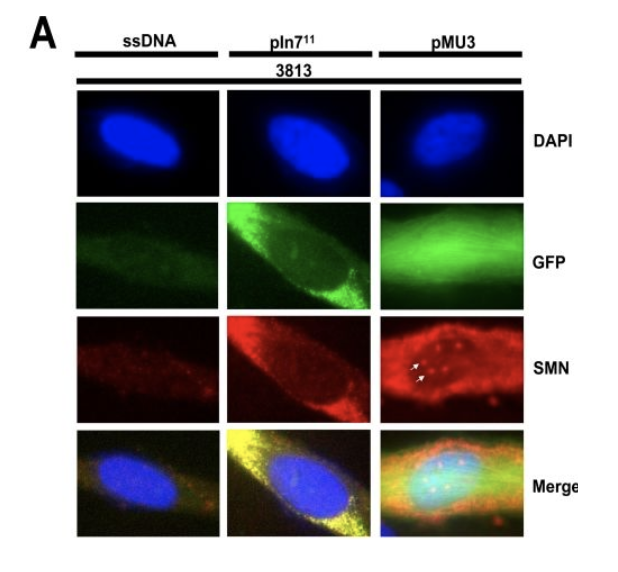 Premium and custom listings
It is core to CiteAb that all suppliers' products are featured in our search results, with only their citations affecting how highly they rank. This ensures transparency for researchers and allows them to be confident that they're seeing the best products for their experiments.
However, we also offer premium listing options which mean that once a researcher carries out a product search and lands on one of your product pages, you can achieve maximum brand exposure. You can add contact information, a logo and an advert on your product pages, and promote your reagents and services to the hundreds of thousands of researchers who use CiteAb every year. Add a 'request a quote' button to lead researchers to get in touch with you directly from the CiteAb website.
We can also list your custom product services.
Find out more about premium and custom listings.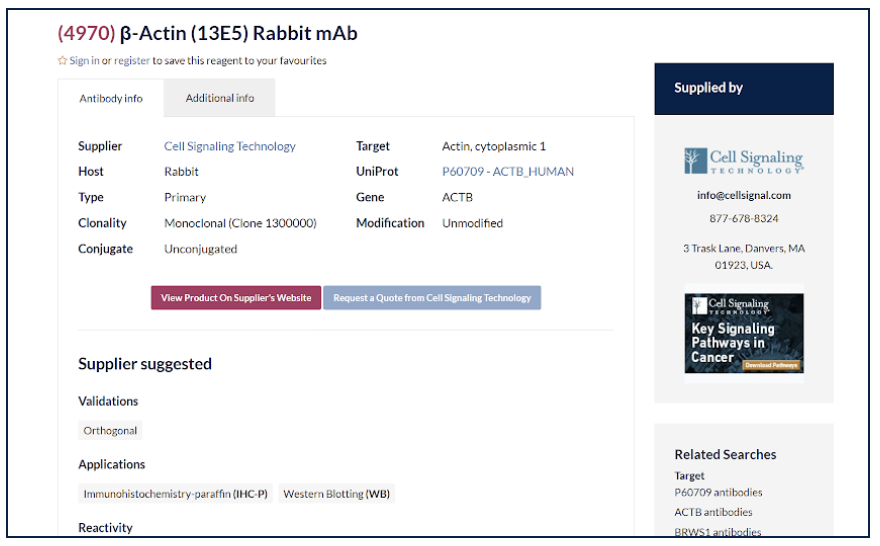 I am always very happy to have a conversation about the unique ways in which you might want to use our products to support your organisational objectives. We can often be very flexible and can work with you to help you achieve what you need from our products. Do drop me an email on alicia@citeab.co.uk and we can schedule a call. 
– Alicia and the CiteAb team