For those of you attending AACR 2018 in Chicago in April, our team hopes to see you there.
We're also going to be presenting CiteAb Awards certificates to many of our winners, and today we have details on where you'll find award winners' booths.
Cell Signaling Technology, who won three categories in the 2018 CiteAb Awards, and were 'highly commended' in two, can be found in booth 3606. As our 'Antibody company of the year', you won't want to miss visiting to see what all the fuss is about.
Abcam, winners in our 'company with sustained success in China' category, and 'highly commended' in another three awards, will be in booth 3417. Offering a range of 118000 antibodies, kits, proteins and other reagents, Abcam is consistently one of the leading reagent suppliers in the world.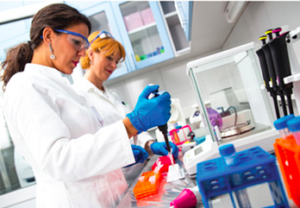 Winners of our prestigious 'Researchers' Choice' category, Bio-techne, will be in booth 2231. This is the company that researchers felt gave them the very best products, service and experience throughout 2017, so are definitely worth a visit.
At booth 1805 you can find Thermo Fisher Scientific. The company won our 'Antibody validation initiative' category in the awards for its 2-part Validation Approach, which uses a truely comprehensive range of testing methods. You can find out more from the team at the event.
Atlas Antibodies will be at booth 2120, where you can learn about the highly comprehensive guidelines for antibody validation the company is developing – the reason why they became our 'highly commended' company for their validation initiatives.
Winners of our 'Innovative product of the year' category, Diagenode, will be at booth 1220. Here you can find out all about the company's Automated ChIPmentation. This unique technology was launched in December 2017, and integrates automated chromatin immunoprecipitation and next generation sequencing library preparation within the same protocol, eliminating the traditional tedious steps, purifications, and inefficiencies that can result from standard ChIP-seq protocols.
Proteintech was 'highly commended' in our 'Antibody supplier to watch' category, having seen a significant increase in the number of times it's products have been cited in peer reviewed academic papers over the last 12 months. You can find out more about Proteintech's popular product range in booth 3438.
Streaming ahead this year in the chemical probes market is MilliporeSigma, with the company taking the winners spot in our 'Chemical probes company of the year' award. The company claimed the lion's share of citations within the chemical probe market in 2017 and you can explore their full range of products at booth 1733.
In booth 4031 you'll find Selleck Chemicals, 'highly commended' in our 'Chemical probes supplier of the year' category. The company supplies over 3,000 inhibitors used in the study of cell signaling pathways, and has a Bioactive Screening Library consisting of over 2,100 small molecules with validated biological and pharmacological activities.
If you need custom antibodies, then don't miss the chance to speak to Genscript in booth 2322. The company won our 'custom antibody supplier of the year' category having had the most citations for their custom antibodies during 2017.
Last but not least, if you're in the market for flow cytometers be sure to visit BD Biosciences in booth 1511 – with the company claiming both the winner and highly commended slots in our 'Flow cytometer of the year' award, you'd be crazy not to.
Our founder Dr Andrew Chalmers will be at AACR with some of the CiteAb team, and will be paying visits to each of the companies listed here to present them with their award certificates. He said: "I am very much looking forward to catching up with those suppliers we have worked with for ages, and meeting some of our newer contacts for the first time. If you'd like to meet up while we're in Chicago do drop me a line, I'd be delighted to hear from you."
Product Manager Alicia will be attending the event for the first time. She said: "This is my first business trip with CiteAb and I'm really excited to have the opportunity to meet the companies and people that I've been working with over the past few months. To also be able to present many of them with awards is an added bonus and its really nice to have the opportunity to do this in person."
Don't miss out on meeting any of the companies you'd like to see at AACR this year – you can see a live exhibition map here and list of all of the booths for exhibitors here.
– Matt and the CiteAb team