We're just a few weeks out from the Society for Neuroscience's annual event, so with this field at the front of our minds we've delved into CiteAb's data to offer you a neuroscience special this week.
Today we're looking at data for the main antibody protein targets for neuroscience research – before reading ahead why not try to predict what the top three will be?
Dr Chalmers, founder of CiteAb, is attending Neuroscience 2016 in San Diego. He said: "In total our database shows antibodies raised against over 3000 hugely diverse proteins that are cited in neuroscience papers. This reflects the huge diversity in neuroscience research which will no doubt be on display at SfN."
So have you made your predictions? Well, claiming the top spot is our old favourite GFP. This fluorescent protein tag is ubiquitous in life science research and commonly used in neuroscience, so many of you will not be surprised that this takes the number one spot with over 3 per cent of citations.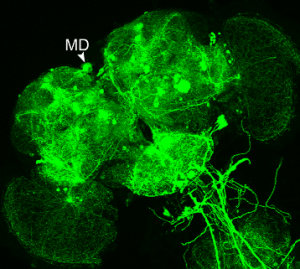 In second place we have RFOX3 – or to give its full name, RNA binding protein, fox-1 homolog 3, commonly called NeuN. Dr Chalmers said: "This is a nuclear protein that many neuroscientists use to mark a wide range of neuronal types in the central and peripheral nervous system. It is used with IHC on brain sections and also for staining primary cultures or neuronal cell types like differentiated P19 cells."
And in third place? Here we see GFAP – if you are not wanting to stain a GFP tagged protein or mark neurons with NeuN then the next most likely protein you want to detect is GFAP to mark astrocytes. Dr Chalmers adds: "This intermediate filament is very frequently used to mark astrocytes and distinguish them from other glial types. It's use is responsible for 2.3 per cent of citations for antibody targets in neuroscience research papers."
So how did you do? Did you get all three? Perhaps guessing the top three cited was fairly easy for the neuroscience experts among you, but how about you have a go at seeing how many of the top 10 you can predict? If you drop Matt an email we will send you the top 10 for free so you can see if your predictions match our data.
Dr Chalmers said: "I'm really looking forward to Neuroscience 2016 and to meeting many of you there. If you'd like to catch up while I'm in San Diego please do get in touch with me, and as always if you want to have a chat about our data, for neuroscience or any other discipline, please let me know and I'll be able to outline how CiteAb might be able to help."
CiteAb will be tweeting from Neuroscience 2016 so make sure you're following us at @CiteAb. You can also find out more about the event here, or keep up to date on Twitter using the hashtag #SfN16.
– Matt and the CiteAb team