Our latest data suggests that the US has continued to lose its share of the biosciences market at an alarming rate over the past year.In February 2014 we released data that suggested growth in China would result in the country soon claiming the lion's share of global bioscience market, overtaking the United States within the next five to ten years. Today our founder, Dr Andrew Chalmers, says that the latest data suggests not only was this true, but that China could overtake the US earlier than originally thought.
Andrew said: "Our data from CiteAb clearly shows that there has been a large spike in the number of Chinese research papers using antibodies over the last twelve months. Equally the number of US papers has dropped significantly. This data acts as a fantastic indicator of bioscience research activity.
"In 2011 the Royal Society predicted that China would overtake the US in two years, and in 2012 Nature predicted that China would overtake the US by 2014 – both statements that we disagreed with when we issued our report in February 2014. Our assertion, based on CiteAb data, that it would be later was correct, although the graph below does show that the move in this direction has sped up considerably."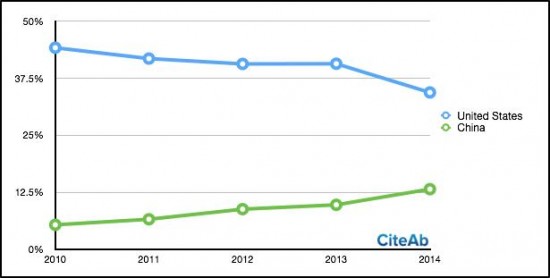 The data we've released today  also highlights the increased level of bioscience activity undertaken in India, with consistent growth seen in the country since 2010. The country has now claimed almost 1 per cent of the total global market and looks to still be growing significantly. This will have contributed to the increase in overall Asian market share shown by our data.
We spoke to Dr Subhash Gangar, Antibody Development Associate at antibody supplier Novus Biologicals. He said: "At Novus we've seen a growth in the use of our products in India in recent years, particularly our primary and secondary antibodies, our conjugated primary antibodies and ELISA kits  (View Novus antibodies on CiteAb).
"The main research areas our products are used for in India are cancer research, stress response and toxicology research. Institutes such as the top tier universities – BHU, JNU and Annamalai University – and medical organisations such as AIIMS and PGIMER along with a large number of research institutes make up our growing Indian market."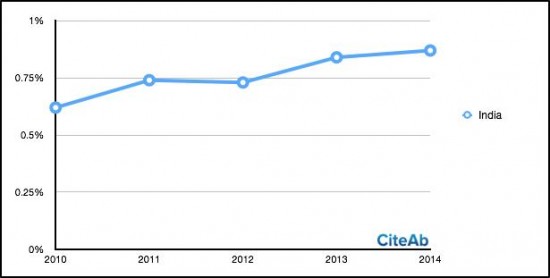 Andrew said: "Again, our data demonstrates that while European market share has remained consistent, the US has reduced rapidly in recent years, and Asian market share has grown.
"This is clearly a major challenge for the many companies in the US that provide services to the bioscience sector – we're approaching an equal 1/3 share of the global market across Europe, the US and Asia and this will have implications for the business models and growth strategies of these companies. They're used to selling to a domestic audience, but more might have step up their efforts to exploit international markets, and especially Asia."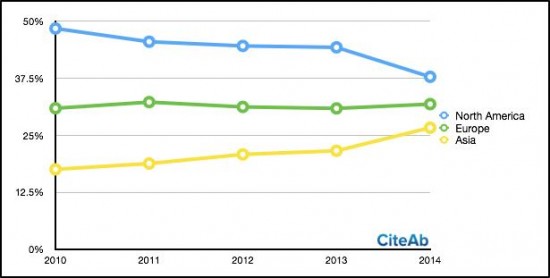 In addition to the growth of Asian economies and an increased focus on scientific research by Asian universities, one of the reasons suggested for the shift of market share from the US to Asia is the reduced funding of the National Institutes of Health (NIH), the USA's foremost funder of lifescience and medical research.
Andrew said: "The NIH has lost a huge 22 percent of its purchasing power since 2003. Just last week Dr Francis Collins, head of the NIH, said that as a result of funding cuts fewer US students were choosing to go into biomedical research at the detriment of the country's future in the discipline.
"With less funding for research, and fewer bioscientists coming through the pipeline, the US faces serious challenges to its long held top spot in world bioscience research, and will need to make serious investment to protect its future involvement in the sector."
If you're interested in a quote for the full data set, or in exploring any of the other market intelligence data CiteAb has to offer, drop Matt an email on matt@citeab.com and we'll happily chat further about your needs.
Does your company supply antibodies to Asia – and if so what have your experiences been? Do you plan to increase efforts to target a growing Asian market?
– David and the CiteAb team