We recently announced the winners of the 2017 CiteAb Antibody Awards, and today we feature the winner profile here on our blog for the prestigious category of 'Most Exciting Antibody Validation Initiative 2017'.
The winners of this category for 2017 are Abcam, headquartered in the UK and trading internationally.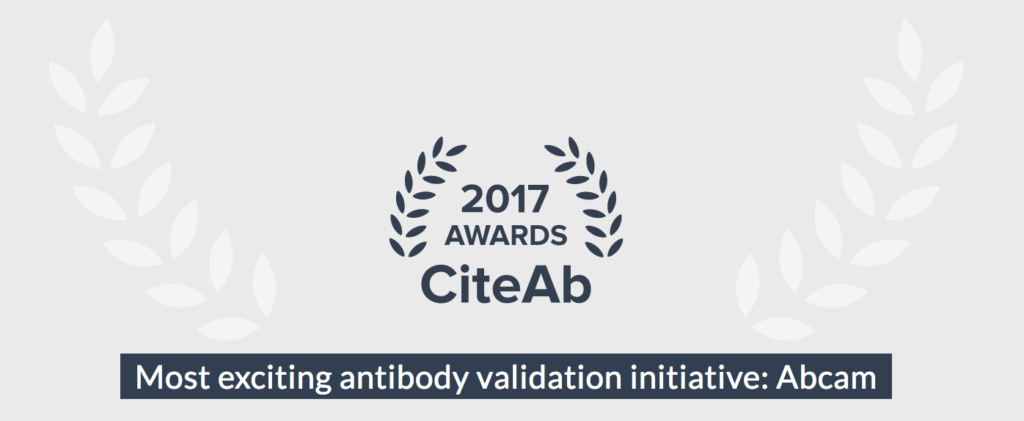 This category was extremely competitive and judges this year were impressed with the quality and quantity of submissions. Abcam, however, demonstrated a significant commitment to validation which judges felt made the company worthy winners of the award.
Abcam introduced an industry-changing antibody validation initiative at scale over the past year, with the aim of addressing the critical need for antibodies with a higher target specificity.
Abcam has rolled out the provision of knockout-validated antibodies on an unprecedented scale, demonstrating a commitment to improving validation standards while also ensuring that a higher price is not be charged for these products.
The initiative also enables researchers, who previously would have undertaken their own knockout validation, to benefit from significant time and cost efficiencies.
Knockout validation involves using knockout cell lines which do not express the target protein of interest; therefore providing a true negative control. Abcam's knockout validation process ensures that antibodies are highly specific to the intended protein target, providing researchers with trusted data that enables them to confidently select the right product and ensure the accuracy of their results.
When launching knockout validation, Alan Hirzel, CEO, Abcam, said: "We always strive to provide the highest quality product and relevant supporting data. Our decision to validate antibodies with these exclusive knockout cell lines means we can give researchers an enhanced level of confidence that they are using the highest specificity products. Our hope is these changes will put more money back into advancing the research missions of our life science customers."
Dr Andrew Chalmers, Founder of CiteAb, said: "We've been very involved in the antibody validation movement over the past two years, and we saw a number of excellent initiatives discussed at the 2nd International Antibody Validation event we co-hosted in September. We were thrilled to see an excellent standard of entry in this extremely important category, and congratulate Abcam on their deserved win."
You can read more about Abcam's KO validation initiative here.