A few of us from CiteAb are at the 2014 International Antibody Validation Forum hosted by St John's Laboratory at Queen Mary University of London this week.
Here at CiteAb the validation of antibodies is core to our mission, so this forum which addresses growing concerns associated with the use of commercial antibodies in research and in diagnostics is close to our hearts.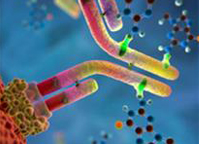 Our founder Dr Andrew Chalmers said: "I was really keen to come along to this event – it pulls together an international group of experts from academia and industry to debate issues that are extremely important.
"I will be speaking at the forum this week on the work we're doing through CiteAb, in particular how we believe publications are the best source of information regarding independent antibody validation and how we've set up Citeab as a great way to find these published studies."
In addition to being involved in this event, both Andrew, and Matt Helsby, our Development Manager at CiteAb, sit on the F1000Resarch Antibody Validation editorial advisory board which aims to create a new collection of papers focused on antibody validation. These will give scientists a chance to publish their antibody validation studies and help others find antibodies that work. The collection will be launched at the International Antibody Validation Forum.
Andrew adds: "We're all hoping that the Forum this week will be the first of many that will help to shape the industry and provide greater transparent, accessible antibody validation data. We're grateful to St John's Laboratory for organising it.
"I am very much looking forward to the keynote presentation from Dr David Rimm who is the author of the Rimm Lab Algorithm for IHC/QIF, and has travelled from the USA to speak.
"If you're coming along then I would love to catch up with you, so do drop me an email or send a tweet to @CiteAb. If you're not coming, I will be writing an update when I get back on my talk and others I hear during the event,  and will of course tweet from the event itself. The hashtag for the event is #abvalidate – join the conversation and I'll see you there!"
– From the CiteAb team