Over the past month we've had a huge increase in the number of Chinese visitors using CiteAb which is really exciting.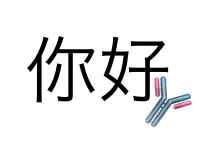 In the last month we've seen users from 35 cities over the country. Unsurprisingly, the ten cities where we've had most visitors are home to China's top ten universities.
In the last two months, our Chinese users have searched CiteAb 1740 times using over 1500 unique search terms.
What does all this mean? Most importantly we are delighted to welcome our Chinese users and thrilled that they are finding the site useful. Its also interesting to see which antibodies researchers in China are most interested in, and which companies they're currently looking to for these antibodies. This highlights specific research needs down to individual cities.
As of this week, China has pipped the UK to become CiteAb's second largest market, with the USA still out in front. We're really excited that scientists all around the world are finding CiteAb useful and are returning time and again to find antibodies for their research.
———————
If you are one of our Chinese users then welcome to CiteAb! We hope that you've found everything you are looking for on our site.
We list over 1.2 million antibodies, and to keep the listings unbiased we rank antibodies by the number of academic citations they have.
This means that you can easily find previous research that has used a particular antibody in the past, and be sure that the antibody works before you spend a lot of money on it.
We are keen to support our users in all countries. We recently noticed how many of our users were from China, and therefore ask that if you have any specific feedback for us you let us know, either in the comments below, or by emailing matt@citeab.com. We try to respond to all feedback.
– from the CiteAb team
———————
各位CiteAb用戶,您好!我們希望您可以在我們網站找到各式您所需要的資訊。
我們有120萬種以上抗體明細在我們的資料庫裡。此外,為維持資訊的公正性,我們並引用列出相關學術研究結果供參考
這表示您可以針對您的需求找到關於該抗體的相關學術研究,幫助您在花費鉅額購買前確認該抗體的作用
不久前我們知道有許多的客戶來自中國,我們非常樂意提供完善服務給所有的客戶。因此如果您有任何的問題或意見回饋,非常歡迎請您在以下留下您的意見或者電郵給我們至 matt@citeab.com。我們會盡力針對各個意見一一回覆。
– CiteAb團隊敬上