Exciting news – this week our citation widget has been put into use for the first time on a distributor website.
Previously a number of suppliers have used our citation widget on their websites, including Cell Signaling Technologies, US Biological, Rockland Immunochemicals and Bethyl Laboratories. We also provided our first ELISA citation widget to Active Motif.
However, we're delighted that Biomol is the first distributor to put the CiteAb citation widget to use.
CiteAb founder Dr Andrew Chalmers said: "Distributors often have a really big challenge on their hands to collate citation information – they usually work with a large number of suppliers so it is a lot of data to collect from different sources.
"By making our widget available to distributors we aim to help them reduce the effort put into keeping on top of this problem."
Biomol's website has gone live with the CiteAb antibody citation widget this week. Dr Chalmers adds: "We're delighted to be able to help suppliers, distributors and researchers by providing our citation data in a new way."
To make it easier for distributors, we are allowing them to use the widget for free if the supplying company already has a widget subscription. If you want to check with us whether this applies to your company, please do get in touch.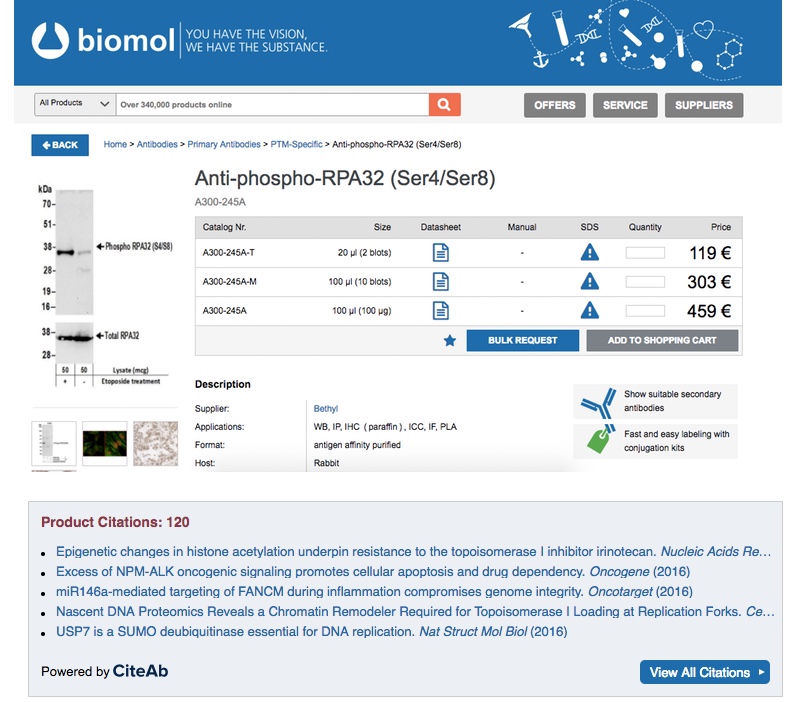 – Matt and the CiteAb team