Its nearly time for the annual Society for Neuroscience event 'Neuroscience 2018' or #SfN18, and three of the CiteAb team are getting ready to jet off to San Diego in just a few days.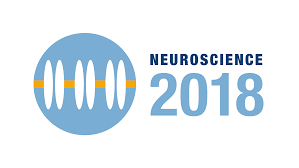 Will you be at the event this year? If so, Dr Andrew Chalmers, founder of CiteAb, says: "I'm going to be heading out to SfN this year along with CiteAb data product managers Rebecca Sadler and Rhys Williams. We already have plans to meet with many of the companies we work with as it's a great opportunity to catch up with everyone, but if we've not yet been in touch with you and you'd like to see us while we're in the states, please do get in touch with us."
For Rebecca this is her first overseas trip with CiteAb, so we had a quick chat to her about her expectations and what she is looking forward to.
"I'm very excited to see San Diego, as I've never been before. I'm also looking forward to experiencing a huge US conference which I think will still be bigger than I can even imagine – lets hope I don't get lost!
"I've got plans to see a number of people from companies I've been working with remotely, and it will be really nice to catch up with people I haven't seen in a while. I'm also hoping to meet with some of the people I have previously only spoken to by email or phone too – it's always great to finally meet in person!
"I'm definitely very excited to be having the opportunity to explore a bit more of California after the conference before heading home."
While she's at SfN, a few of the suppliers Rebecca is looking forward to meeting include Bio-Techne (and subsidiary Tocris), MilliporeSigma, Cell Signaling Technology, Biorbyt, Carbosynth, LKT Labs among others.
It'll be Rhys' first conference with CiteAb too, although he's a little more used to being in America having spent many of his childhood family holidays stateside. He tells us "I'm excited to go to California, it has been seven years since I last went to the states, so it'll be fantastic to be back.
"In terms of the conference, I'm looking forward to meeting many of the people in person who I speak to by email as well as hopefully meeting new people. I'm also looking forward to learning about new companies and learning about the latest research that is happening in neuroscience."
Neuroscience 2018 is an internationally acclaimed event which allows scientists from around the world to congregate, discover new ideas, share their research, and experience the best the field has to offer. This year the event runs from 3 – 7 November in San Diego.
Want to catch up with the CiteAb team while you're at SfN18? Give us a shout now and we'll get a plan together!
– Katrina and the CiteAb team