This year, as part of the CiteAb Antibody Awards, we offered researchers the chance to be entered into a prize draw for nominating their favourite antibody suppliers.
This category had a large number of entries this year, and we selected the prize-winning nominator at random. Congratulations to Netanya Spencer of the Joslin Diabetes Center at Harvard Medical School – you win the $250 gift certificate for your nomination!
The 'Researchers' Choice' award recognises the antibody supplier that the researchers who use Citeab say they have been most impressed by over the past 12 months (view past winners).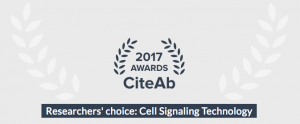 Nominations for the category are made by those like Netanya who use antibodies in their work and have personally used the company or supplier they nominated.
In this years' awards, Cell Signaling Technology maintained the title 'Researchers' Choice' for a third year running! The company had both by far the highest number and most positive nominations from researchers.
Dr Andrew Chalmers, Founder of CiteAb, said: "Here at CiteAb we're all about making it easier for researchers to find really good antibodies. So many factors are important, from the quality of the product to the customer service and the aftercare that companies provide.
"This is a really prestigious award as it reflects what researchers really think about the companies they use. Congratulations to Cell Signaling Technology on their win, and congratulations to Netanya Spencer for being the lucky nominator in our prize draw!"
You can see all of the 2017 CiteAb Antibody Award winners here: http://www.citeab.com/awards
– Katrina and the CiteAb team