Antibody search engine CiteAb has today announced the winners of the 2016 CiteAb Antibody Awards.
The awards aim to celebrate the very best suppliers, reagents and individuals in the research antibody sector, recognising the efforts that are made to progress science.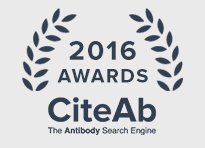 CiteAb is an antibody search engine which allows scientific researchers to search for antibodies to use in their experiments. The site is completely unique in that it ranks search results by the number of citations an antibody has received in academic papers, which allows researchers to find those that have been proven to work for the applications they're interested in.
Founder of CiteAb, Dr Andrew Chalmers, said: "CiteAb generates a great deal of data which is based on the analysis of hundreds of thousands of publications which use research antibodies. Therefore it gives us an unrivalled view of trends in the market.
"The entries to the awards this year were extremely strong, and from the results we can see a good range of companies are really succeeding. Congratulations to all those who have won or been named as runners up, we look forward to seeing them grow and develop over the coming years."
The CiteAb Antibody Awards feature ten categories – four of which were open for nomination, and six of which were awarded based on data for 2015 antibody use and citations generated through CiteAb.
The categories, with winners and runners up, are:
Researcher's Choice
Winner: Cell Signaling Technology
Runner up: Abcam
Custom antibody or alternative affinity reagent supplier
Winner: AxioMx
Runner up: Bio-Rad AbD Serotec
Most exciting antibody validation initiative
Winner: Proteintech
Runner up: Abcam
LifeTime Achievement Award
Winner: Dr Jonathan Milner
CiteAb Antibody Company of the Year
Winner: Cell Signaling Technology
Runner up: Abcam
Small company of the year
Winner: Dako
Runner up: Active Motif
Antibody of the year
Winner: Sigma Aldrich's Anti-β-Actin
Runner up: Cell Signaling Technology's Akt Antibody.
Company to watch in 2016
Winner: Boster Immunoleader
Runner up: NewEast Biosciences
Company succeeding in neuroscience research
Winner: Abcam
Runner up: Millipore
Company succeeding in stem cell research
Winner: Abcam
Runner up: Cell Signalling
You can read more about each of the winners and the award category criteria, at http://www.citeab.com/awards.
CiteAb can be visited at www.citeab.com. For news and discussion see the blog, follow on Twitter at @CiteAb, or find CiteAb on LinkedIn, Google+ and Facebook. You can see Abcam's full interim report here.