We're really excited to announce a new partnership between F1000Workspace and CiteAb, making it easier than ever for researchers to see the antibodies used in any research article they're interested in.
We first reported on F1000Workspace back in 2015 when the service launched, and we've seen the service develop since then to offer researchers a great tool to simplify the process of collaborating and writing new research.
Dr Andrew Chalmers, founder of CiteAb, said: "F1000Workspace is a reference management system that allows users to discover research papers, annotate them, share and collaborate on academic writing with partners and automatically create bibliographies – it is an extremely useful tool for writing research papers."
As you'll be aware, here at CiteAb we aim to enhance the effectiveness of research and to ensure that researchers have the tools required to make good decisions about the antibodies they use.
As a result of this new partnership, F1000Workspace users can now see a list of all the antibodies used in any research article in their library.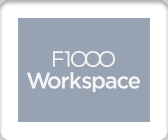 Alicia Cooper, product manager at CiteAb said: "This new functionality in F1000Workspace is built on a specially developed CiteAb API which allows users to see which antibodies have been cited within papers they've stored onto workspace under a 'Reagents' tab. It also gives information about the antibody's cited applications and reactants – we've included a few screen grabs below so you can see how this looks to users.
"Our team is always really keen to hear from organisations with ideas on how CiteAb's data could be harnessed to help further research. This is one fantastic example of an occasion where our developers have been able to work with F1000Workspace, producing a unique plugin which will benefit researchers and help them make informed decisions about their experiments."
You can create a free F1000Workspace account at https://f1000workspace.com/
You can also read updates about F1000Workspace on their blog at https://blog.f1000.com/blogs/f1000workspace/
– Matt and the CiteAb team