In our ongoing quest to learn more about open access publishing, this week we've been chatting to Iain Hrynaszkiewicz, Outreach Director for Faculty of 1000, about his belief in encouraging transparency, sharing and debate.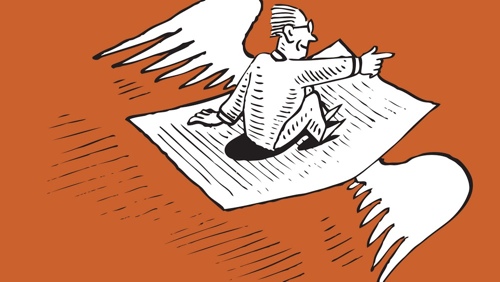 Iain, tell us a little about Faculty of 1000?
The original Faculty of 1000, launched in 2000, involved 1000 biologists who worked to find and highlight the top articles in biology. Today we work with over 5000 senior and 5000 associate scientists in biology and medicine to select the top 2 per cent of life science papers. They score these papers and, importantly, also produce a short recommendation comment to give context.
From the original F1000 we've now developed other services, two of which are open access. In 2010 we launched F1000Posters, where scientists can freely upload their posters and slides used at conferences for others to read, and use, under a creative commons license.  Most recently, in July 2012, we launched F1000Research, a completely open access peer reviewed journal for life scientists.
In what way is F1000Research different to other open access journals?
The peer-review process for F1000Research papers is much the same as for any other journal, open access or otherwise, in that suitable peer reviewers are identified and their reviews are sent on to the author for revisions to be made. However, F1000Research is unique in that we publish the first version of papers before peer review, as formatted PDFs and full html, but marked as waiting for peer review. This has the effect of making research available as soon as possible by cutting the time to publication right down to within one week from submission. It also opens up the peer review process and makes it very transparent, ensures peer reviewers are acknowledged for their contributions, and hopefully makes the process more efficient if peer reviewers don't have to repeatedly review the same paper for several journals sequentially.
We also have stringent policies on the availability of research data for papers published through F1000Research. Unless a patient confidentiality breach would be caused, all data has to be made available either in a recognised repository or in our partner repository, figshare. Data published in figshare are available under a Creative Commons CC0 public domain waiver enabling maximum reuse.  Also. datasets published in figshare are displayed inline with reading in our papers.
Have you faced any challenges in making F1000Research completely open access?
The open access movement has reached a point now where is it an established part of scientific publishing so a lot of the challenges in providing open access to papers have been overcome. Between 15 and 20 per cent of life science literature is now published open access, and more is made open access months after publication. The support of funders in providing open access mandates for research publication has certainly helped, and recent discussions in the industry around using the Creative Commons license shows there is a dedication to not just sharing research but to using and building on it. Although F1000Research has one of the strongest policies on data availability, even authors who are not so used to publishing and sharing research data have been supportive once the benefits are explained to them.
You're clearly passionate about open access publishing, what motivates you?
On a personal level, I'm interested in efficiency – making the most of scientific data and papers and using the web to its full potential to make the most efficient use of the products of research. My background is in journal editing and publishing, with a focus on clinical research and trials and I see that by making medical research more transparent, reliable and efficient it will have a greater positive impact on people's lives.
Many people argue that quality control is stronger in traditional journals. Are you concerned about the quality of open access papers?
I don't have any concerns about quality that are specific to open access publishing, as I think the real concerns are related to the peer-review process and therefore affect all publishing, whether open access or subscription based. The peer-review process has been shown time and again to be insufficient at identifying fraud, and capable of missing mistakes in research, and I am interested in how this can be improved through transparency, but don't feel quality as a whole is any more of a problem for open access journals.
I think it is also worth highlighting that many high-profile journals publish all research open access. The Impact Factor – a flawed but still important measure of journal quality – is high for many open access publications, like Genome Biology and the BMJ for example..
Where do you see the future of traditional subscription publishing?
Well traditional publishing certainly isn't going away for the foreseeable future, the majority of papers are still published in subscription journals. However we are seeing these journals offer different open access options, either charging fees to publish open access papers, launching their own open access sister-journals or even converting their subscription models into open access models. Open access for original research will become the norm in the foreseeable future but publishers will continue to experiment and innovate in the business model for secondary and tertiary literature (review, commentary and databases).
What opportunities do you see becoming available as a result of the increase in open access publishing?
We're in an exciting time – there has been a significant increase in the number of open access papers made available under a Creative Commons attribution license allowing commercial and other reuses, so I expect us to soon see more work that mines the data and literature available and uses it to build innovative new tools and services.
It's also a good time to discover the real impact of individual papers, beyond impact factors and citations. By using the web to understand the way people interact with papers we can extract unique metrics which I believe will highlight impact we're currently missing, and show the real value of making papers available freely online.
So what are your thoughts on the open access model used by F1000Research? Do you share Iain's concerns over the peer review process? What opportunities do you think open access publishing will create in the future? We'd love to know your thoughts so please do post in the comments.
We're going to continue to explore open access publishing throughout the rest of the month, and welcome any ideas for blogs you'd like to see us including. Drop Matt a line on matt@citeab.com or send us a tweet to @CiteAb. Thanks!