As we fast approach the Christmas break we want to wish all of our blog readers a very happy holiday.
We've been having a chat here about our year, the highlights, and what we're looking forward to in 2019. Each of the team had a standout moment, so we thought we'd share these with you today. We'd also love to hear yours, so do get in touch and let us know about your year.
Andrew Chalmers, Founder of CiteAb
"It's been great to see how the whole CiteAb team has really worked together in 2018 to produce high quality data to help suppliers and researchers. A huge thanks!
"I have been really excited to see our antibody data being used more and more, and also data on other reagents start to have an impact. I can't wait to continue our efforts in 2019!
"A highlight for me was the antibody validation meeting we helped to host, along with AstraZeneca and the University of Bath, as it brought suppliers and researchers together, the exact two groups we want to help. It also had a big impact on our future plans- watch this space in 2019″
David Kelly, CEO
"This year we've added multiple reagent types to CiteAb, which marks the first step for us transitioning from the world's leading provider of antibody data, to becoming the world leader in life science data. We've got many big plans for 2019, which we'll be revealing here on our blog soon enough, so keep an eye out and keep talking to us – we really appreciate hearing from you about what you'd like to see us exploring next."
Matt Helsby, Development Manager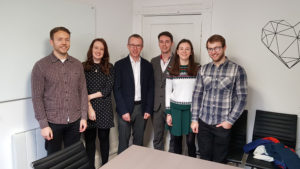 "For me, my highlight of 2018 was celebrating my fifth year working with CiteAb back in February, along with moving to New Zealand where I am working remotely for a year!
"It has been an adventurous year, although I can't say that any of my five years at CiteAb have been quiet, the company has grown so much from its early days and we're doing so many exciting things now, its really great to have been involved all the way through and see the transformation."
Rebecca Sadler, Product Manager
"Just a few weeks ago I went to California to attend the Society for Neuroscience conference, it was great to have the chance to meet so many people, those we work with already, or meet new contacts who have as much interest in our data as we do. It was really insightful and a lot of fun! After the event I visited the state which was brilliant.
"I've also been building our new flow cytometer data. Although this market data kind of overlaps with the antibody data, I've really enjoyed working with it as generally clients seem to want to use the data in new ways that we haven't seen with the antibody and biochemicals data. It has been really interesting getting involved in a new area of the life science market, and also seeing innovative new uses for our data!"
Alicia Cooper, Product Manager
"Back at the beginning of 2018 I ran the CiteAb Awards for the first time, which was a really great project alongside my usual work, and one which let me really get to know a lot of the companies we work with. I then went to AACR in Chicago to present the awards to winners – both going to Chicago and getting to celebrate company's successes with them was really exciting!"
Rhys Williams, Product Manager
"This year I got to go to the Society for Neuroscience conference in person in California which was an amazing experience. I met so many of the people I've only been able to work with online up until now, and travelled in California – definitely a fantastic experience!
"I've also been working really hard on our new Kits & Assays dataset, so seeing this go from creation to delivery and really helping the companies that are using it has been hugely rewarding."
Rob Willison, Software Developer
"I've put huge amounts of work into our biochemical search feature this year, so seeing that go live was a huge highlight for me. Seeing people benefit from your work, seeing it make it easier for them to progress their research, is extremely rewarding. I'm looking forward to working on a number of new CiteAb features which you'll hear all about in 2019!"
Katrina James, Marketing
"For me, the real highlight this year has been seeing the incoming responses to our data-led news items. We've run more blogs about our data this year than ever before, and given away more free data than ever before too. The responses from those of you who have been reading our blogs has been so positive, and it's great to know that the insights we're providing into the global life science market are helping so many of you with your work. Here's to more, bigger and even better in 2019!"
So from all of us here at CiteAb, we hope you are also looking back on a successful 2018, are looking forward to an exciting 2019, and enjoy the festive break with your family and friends.
– The CiteAb team