We're currently working with our product team to launch the 2018 CiteAb Awards, featuring some brand new categories.
The awards aim to celebrate the very best suppliers and individuals in the sector, recognising the efforts that are made to progress science.
Our founder, Dr Andrew Chalmers, said: "We've added a few new members to the CiteAb team this year, and they're really excited to input to the awards. Product managers Rebecca and Alicia will be working with us to select some new award categories, helping to profile those companies and individuals that are really standing out.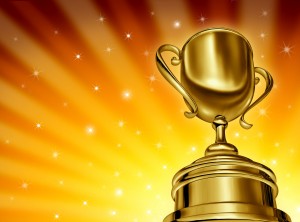 "We'll also see the return of some of your favourite categories, and our whole team is looking forward to seeing some of the innovative, forward thinking initiatives you've all been involved in this year.
"Many of the awards will remain open to nomination, both from researchers who use products from antibody companies, and in some cases from the companies themselves. Others will be made using CiteAb data which is based on the analysis of hundreds of thousands of publications."
Last years' awards saw some really exciting newcomers, alongside many of the leading suppliers, take away awards. Tonbo Biosciences took the 'One to Watch in 2017' award, Cell Signaling Technology pipped others to the prestigious 'Researchers' Choice' award, and Abcam were named CiteAb Antibody Company of the Year. Abcam also came out on top in the highly competitive 'Most Exciting Antibody Validation Initiative' category.
New in 2017 was the 'Secondary Antibody of the Year' category which went to the deserving Invitrogen Antibodies, the 'Company Succeeding in Flow Cytometry' which went to BD Bioscience and 'The PTM Antibody Company of the Year' which went to Cell Signaling Technology.
Karen Padgett, Founder of Novus Biologicals and now Vice President of the Antibody Business Unit and Digital Marketing at Bio-Techne, was the worthy winner of one of our favourite awards, the 'Lifetime Achievement' category.
You can see all of last year's winners on the 2017 awards pages, and you can see some of the winner highlight blogs we ran after the awards here:
Winner profile: custom antibody or alternative affinity reagent supplier
Winner profile: antibody validation initiative
Winner profile: researchers' choice award
The award categories will be announced on Wednesday 8th November, with nominations opening through the CiteAb Website on Wednesday 22nd November.
The 2018 CiteAb Awards close for nominations at midnight (GMT) on Friday 19th January, and winners will be announced on Monday 29th January.
– Rhys and the CiteAb team